13 October 2023
Promotion of GMP-grade cytokines
Sino Biological is excited to introduce a limited time offer. From now until December 31, 50% off GMP-grade cytokines and growth factors!
Sino Biological is committed to manufacturing high-quality reagents for cell therapy research and clinical applications. By employing a quality management system that adheres to GMP standards, and implementing stringent quality management and release testing criteria, Sino Biological has successfully created a range of high-quality GMP-grade cytokines.
Note: Sino Biological, Inc. sells GMP-grade products designed for research, manufacturing use, or ex vivo use and not intended for human in vivo applications.
Quality management system

Complies with the Good Manufacturing Practice
Complies with ISO 9001:2015 and ISO 13485:2016
FDA DMF filed
Full regulatory support files (RSF)

Quality control system

Complies with USP Chapter <1043> Ancillary Materials For Cell, Gene, and Tissue-engineered Products
Complies with USP Chapter <92> Growth Factors and Cytokines Used in Cell Therapy Manufacturing
Complies with the General Chapter of Chinese Pharmacopoeia, 2020 Edition, Volume III

Quality assurance management system

Facility and equipment management system
Raw material and supplier management system
Document and record management system
All documents and records are reviewed and approved by our quality assurance team

Product safety testing system

Bacterial endotoxin levels less than 5– 10 EU/mg
Residual host cell protein levels less than 0.5 µg/mg (500ppm)
Residual host cell DNA levels less than 100 pg/mg
Mycoplasma testing
Sterility testing
Adventitious virus testing
Abnormal toxicity testing
Quality system certification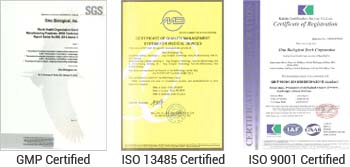 High purity, high bioactivity, high stability, high batch-to-batch consistency
Human Interleukin-21/IL-21 Protein (CatNo: GMP-10584-HNAE)
High purity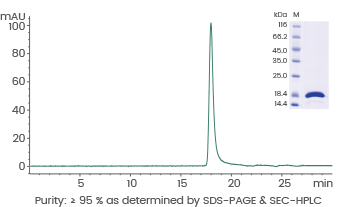 High bioactivity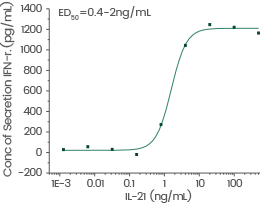 High stability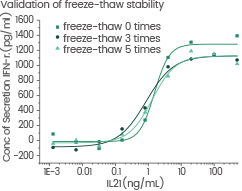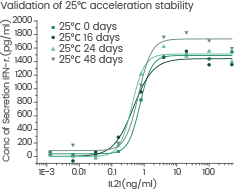 High batch-to-batch consistency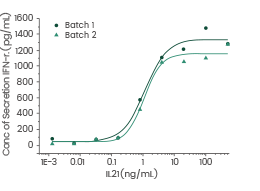 END USER TERMS OF USE OF PRODUCT
The following terms are offered to you upon your acceptance of these End User Terms of Use of Product. By using this product, you indicate your acknowledgment and agreement to these End User Terms of Use of Product. If you do not agree to be bound by and comply with all of the provisions of these End User Terms of Use of Product, you should contact your supplier of the product and make arrangements to return the product.
The End User is aware that GMP-grade products by Sino Biological, Inc. are not intended for human in vivo applications. The End User further agrees, as a condition of the sales of Sino Biological's GMP grade products that: a) the End User will not use this GMP grade product in any procedure wherein the product may be directly or indirectly administered to humans, unless the End User has obtained, or prior to their use will have obtained, an Investigational New Drug (IND) exemption from the FDA and will use the product only in accordance with the protocols of such IND and of the Institutional Review Board overseeing the proposed research, or b) the End User will use the products outside of the United States in accordance with the protocols of research approved by the applicable review board or authorized ethics committee and regulatory agencies to which the End User is subject to in their territory.
Sino Biological, Inc. reserves the right, at its sole discretion, to modify, add, or remove any terms or conditions of these End User Terms of Use without notice or liability to you.
TERMS AND CONDITIONS
The following limitation applies to Sino Biological's warranty and liability for damages: All products are warranted to meet Sino Biological's published specifications when used under normal laboratory conditions.
SINO BIOLOGICAL DOES NOT MAKE ANY OTHER WARRANTY OR REPRESENTATION WHATSOEVER, WHETHER EXPRESS OR IMPLIED, WITH RESPECT TO ITS PRODUCTS. IN PARTICULAR, SINO BIOLOGICAL DOES NOT MAKE ANY WARRANTY OF SUITABILITY, NONINFRINGEMENT, MERCHANTABILITY OR FITNESS FOR ANY PARTICULAR PURPOSE. NOT WITH STANDING ANY OTHER PROVISIONS OF THESE TERMS AND/OR ANY OTHER AGREEMENT BETWEEN SINO BIOLOGICAL AND PURCHASER FOR THE PURCHASE OF THE PRODUCTS, SINO BIOLOGICAL'S TOTAL LIABILITY TO PURCHASER ARISING FROM OR IN RELATION TO THESE TERMS, AN AGREEMENT BETWEEN THE PARTIES OR THE PRODUCTS, WHETHER ARISING IN CONTRACT, TORT OR OTHERWISE SHALL BE LIMITED TO THE TOTAL AMOUNT PAID BY PURCHASER TO SINO BIOLOGICAL FOR THE APPLICABLE PRODUCTS. IN NO EVENT WILL SINO BIOLOGICAL BE LIABLE FOR THE COST OF PROCUREMENT OF SUBSTITUTE GOODS.
Promotion of GMP-grade cytokines