22 September 2022
The crucial need of new biomarkers in the management of NENs
The advent of second-generation neuroendocrine neoplasms (NENs) markers for use in IHC has considerably expanded the pathology toolbox. Atlas Antibodies has released new monoclonal markers targeting NENs.
Neuroendocrine neoplasms (NENs) constitute a group of tumors that derive from the sensory and secretory neuroendocrine cells (the cells that release hormones into the bloodstream and act as an interface between the endocrine system and the nervous system) of the diffuse endocrine system.
NENs are heterogeneous and may arise almost in every organ. However, they are predominately found in the gastrointestinal (48%) and bronchopulmonary (25%) systems, followed by pancreas (9%) reflecting the high density of neuroendocrine cells in these organs.
A correct diagnosis is imperative for the patient to obtain the most efficient treatment. The immunohistochemical assessment of the complex biomarkers expression patterns in targeted biopsies is instrumental in all phases of the diagnostic process, such as differentiation (neuroendocrine or epithelial origin) and proliferation (grading and staging).
In fact, the ultimate NEN diagnosis can only be established with tissue biopsy and further tumor grading based on the combination of proliferative index with cell mitotic rate.
Standard laboratory diagnosis assessment relies mostly on markers such as Chromogranin A (CHGA), neuron-specific enolase (NSE), synaptophysin (SYP), and neural cell adhesion molecule 1(NCAM1 or CD56). However, while virtually all carcinoids are positive for SYP and CHGA, their expression is highly variable in NENs.
Second-generation IHC markers for NENs differentiation
The advent of second-generation NEN markers for use in IHC has considerably expanded the pathology toolbox, constituting markers that often retain expression even in poorly differentiated NECs.
Atlas Antibodies' second-generation IHC monoclonal markers for NENs include:
As non-NENs rarely express these antigens, their specificity makes them welcome additions to the clinical practice.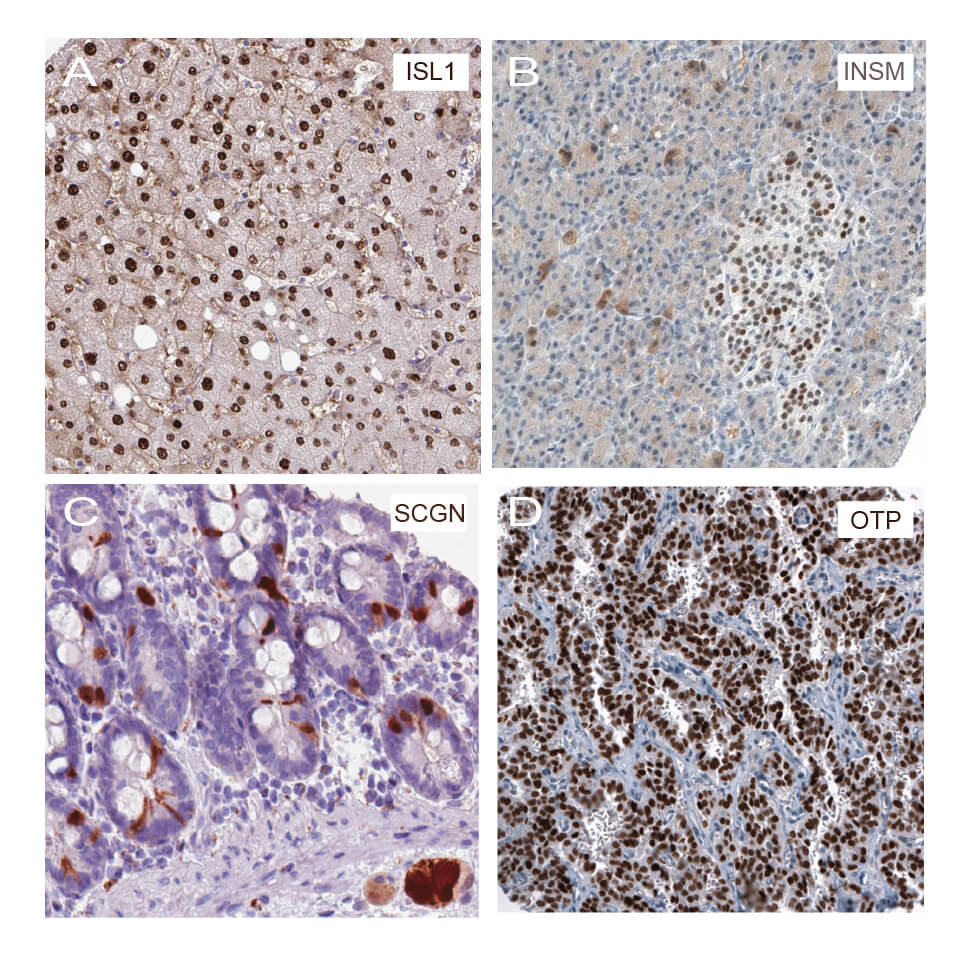 From a biological context, the second generation of immunohistochemical NEN markers (functionally distinct from CHGA and SYP) are more consistent in terms of expression even if the NEN downregulates its secretory machinery as part of the dedifferentiation process.
The combination of classical and new IHC markers should thus be part of the clinical routine arsenal to improve the diagnostic capability, as well as aid in therapy stratification and clinical follow-up (Fig. 2).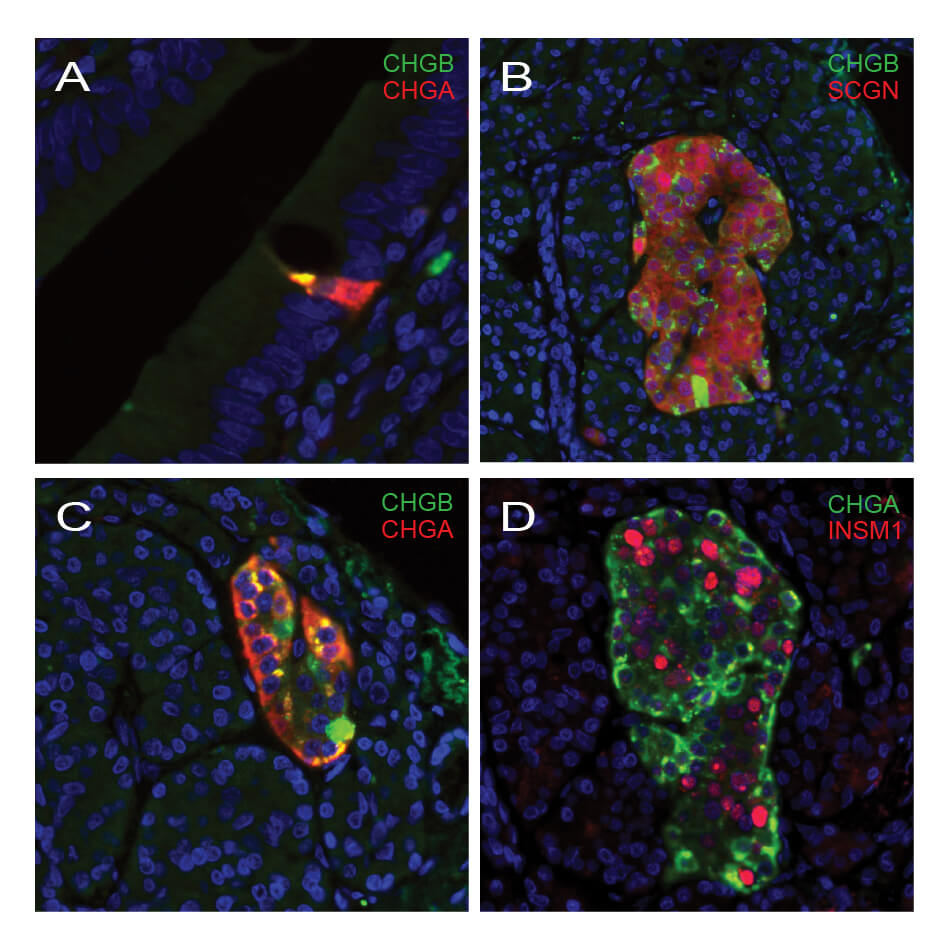 In conclusion, first-generation markers such as CHGA and SYP are still considered the gold standard in endocrine pathology. However, the combined IHC analysis utilizing second-generation markers may constitute additional sensitive and specific clinical use panels. This appears to be a promising approach for identifying tumors with NEN differentiation and a potential tool for NEN diagnosis.
The crucial need of new biomarkers in the management of NENs