Cytoskeleton
Kits and products for drug screening, signal transduction and cytoskeletal research
Cytoskeleton offers a wide range of kits and products for drug screening, signal transduction and cytoskeletal research. They are specialized in the production of purified proteins and easy-to-use kits to study biochemical and cellular processes. Their kits are either made for smaller number of samples for use in basic research or small screens (Biochem Kits™) or in a high throughput scale for large screens (CytoDYNAMIX Screens™).
In addition to Cytoskeleton existing products, they also provide drug screening services for microtubules, tubulin, motor proteins, small G-protein effectors, GAPs, GEFs and several other proteins in their product line.
Bio-Connect Life Sciences supplies all their products in the Benelux. If you have any questions, please contact the helpdesk.
Major product lines from Cytoskeleton
Actin research tools
Antibodies
Custom services
ECM proteins
GOBlot™ western blot processor
Live cell imaging reagents
Signal seeker kits and proteins
Small GTPase activation assays
Tubulin and FtsZ tools
Popular products
Total RhoA ELISA Kit
Measures the total amount of RhoA in a sample of tissue or cell culture extract. Uses a sandwich ELISA to create the high specificity and sensitivity combination. 10-25 µl sample volume. Key components included are:
96-well anti-Rho binding plate, contains IgY pre-coated surfaces
HRP detection reagents
Optimized sample dilution buffer
Primary and secondary antibodies
RhoA control protein included
Comprehensive manual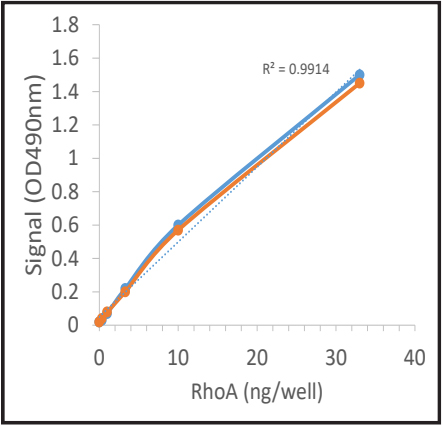 Cytoskeleton
//= get_field('link_naar_research_producten') ?>