GeneTex
Supplier of antibodies, proteins, lysates and research reagents
GeneTex, Inc. started operations in early 1997 in San Antonio, Texas. GeneTex was founded by three internationally renowned scientists with recognized expertise in clinical oncology, cancer biology and infectious diseases. Based on their breadth of experience and research interests, the company's initial focus was breast cancer biology and prognostic marker research. This evolved to incorporate a comprehensive portfolio of immunological reagents used by scientists studying the underlying mechanisms common to many forms of cancer.
GeneTex's product portfolio has expanded to cover research areas including cancer, cell biology, epigenetics, immunology, infectious disease, metabolism, neuroscience, signal transduction, stem cell development and zebrafish biology.
Bio-Connect Life Sciences supplies all their products in the Benelux. If you have any questions, please contact the helpdesk.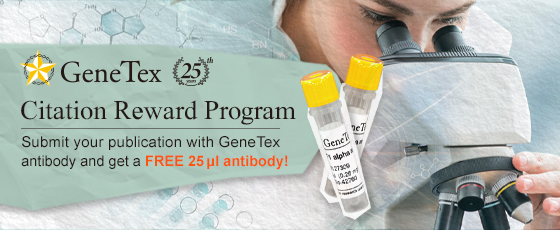 Major product lines from GeneTex
Cell and tissue lysates
Primary antibodies
Proteins and peptides
Secondary antibodies
Serum products
Top sellers
SARS-CoV-2 spike antibodies
GeneTex antibodies that may detect the Omicron spike protein based on immunogen sequence analysis.
GeneTex antibody trial program
Do you want to test an antibody first? Try GeneTex's antibody samples (10 µl) for only €10.