Kementec
Substrates, buffers and conjugates for immunoassays
Kementec is a well-established, innovative, and service oriented company with more than 30 years of experience as a manufacturer and supplier of components to the industry and to researchers worldwide. Being a market leader in developing solutions for immunoassays, the company's continuous goal is to deliver sustainable products without compromising on quality, sensitivity and accuracy.
Over the past decade, immunoassay manufacturers have been working towards more environmentally consciousness and sustainable manufacturing. At Kementec they offer a product line called ECO-TEK®, which provides customers with a unique opportunity to meet their sustainability goals and to achieve their regulatory requirements.
Why ECO-TEK?
Free of BSA – Easing cross border paperwork & improving assay reproducibility
Free of NMP or other harmful organic solvents – Reducing regulatory concerns
Free of toxic preservatives and hazardous stop solutions – Improving work environments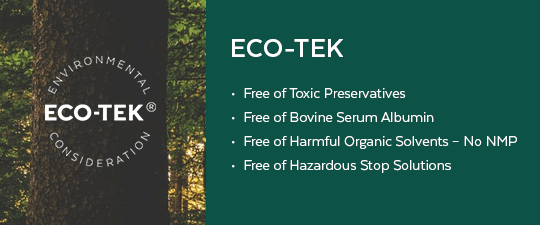 It is the company's vision that all new Kementec products will become ECO-TEK, and being the preferred choice for the immunoassay manufacture that values green solutions, without compromising on quality, sensitivity and accuracy.
Bio-Connect Diagnostics supplies all their products in the Benelux. If you have any questions, please contact the helpdesk.
Major product lines from Kementec
Substrates for immunoassays
Buffers and stabilizers
Labels and conjugates
Kementec's business profile