8 November 2018
Biolaminin 521 stem cell matrix
Easy single-cell passage of human ES and iPS cells without rock inhibitors
Biolaminin 521 LN (LN521) is a full-length, human, recombinant laminin 521 cell culture substrate. It provides an optimal environment for feeder-free culture of human PSCs, MSCs and most anchoragedependent progenitor cell types under completely chemically defined, animal component-free conditions. LN521 renders a single-cell passage hPSC culture system that is medium independent and offers a weekend-free protocol. Importantly, the cells behave predictably, are homogenously pluripotent and karyotypically stable.
Biological relevant for stem cells
Laminins are glycoproteins in the basement membranes surrounding virtually all cells. Laminins bind to cell surface receptors activating cell signaling cascades, leading to more functional and authentic cells.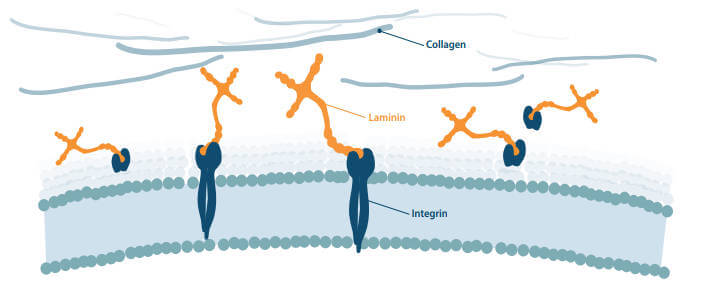 Laminin 521 is a key basement membrane protein of the natural stem cell niche and is expressed and secreted by hPSCs in the inner cell mass of the embryo. LN521 therefore supports reliable expansion of hESCs and hiPSCs and subsequent cell lineage specification. It also has a positive effect on stabilizing and homogenizing the pluripotent gene expression profiles between different hESC lines.
Features and specifications
Defined and animal component-free (primary level) substrate
Biologically relevant hPSC culture environment
Homogenous and genetically stable hPSC cultures
Easy and flexible culture system
Consistent and reliable performance
Rapid scale-up
Supports a weekend-free feeding regime
More efficient differentiation and enhanced cell maturation, polarization and organization
Scientifically proven
For research use only
Robust, homogenous, monolayer expansion of hPSCs on LN521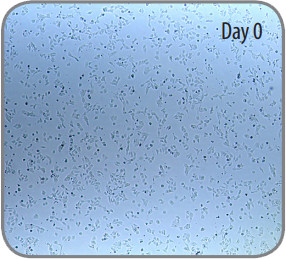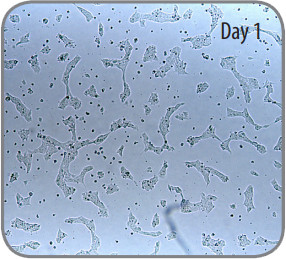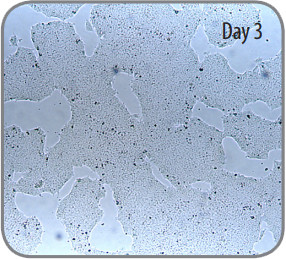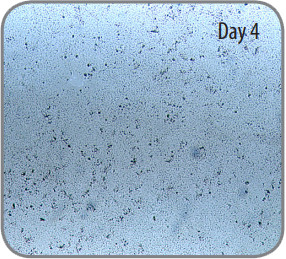 Faster expansion of cells on LN521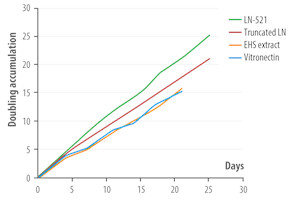 No spontaneous hPSC differentitation

Easy and reliable protocol
Coat plates with LN521
Wash confluent cells with PBS and add dissociation enzyme or EDTA – incubate
Dissociate into a single-cell suspension, centrifuge and resuspend pellet in fresh medium of choice
Seed the cells on fresh LN521 coated plates
References
Biolaminin 521 stem cell matrix