6 January 2015
Bone resorption assay
Useful assay for the research of skeletal metabolism
Bone resorption results in a transfer of calcium from bone fluid to the blood which can be measured. Cosmo Bio USA offers an bone resorption assay kit for the measurement of bone resorption activity using a fluoresceinated calcium phosphate-coated plate (patent pending). This kit can be used for studies of bone metabolism (e.g. osteoporosis) and drug assessment.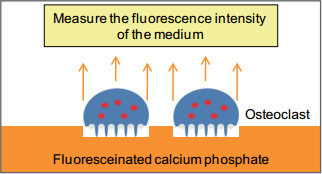 The coated calcium phosphate is first bound to fluoresceinamine-labeled chondroitin sulfate (FACS), which is released from the calcium phosphate layer into conditioned medium by osteoclastic resorption activity. Bone resorption activity is evaluated by simply measuring the fluorescence intensity of the conditioned medium. This assay provides a rapid evaluation system unlike that of the traditional pit assay.
Product features
Bone resorption activity is evaluated by the fluorescence intensity of the medium
Cell morphology can be microscopically observed
Pit area can be analyzed after the assay
Sterilized components are ready-to-use for the assay
Bone resorption plate is an alternative to ivory slice
Differentiation into osteoclast by RANKL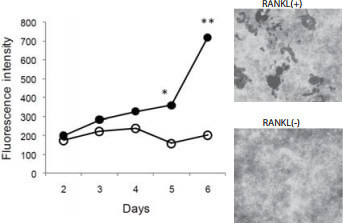 Bone resorption activity and RANKL concentration

Evaluation of test substances for treating osteoporosis

Bone resorption assay products
Reference
Miyazaki T, Miyauchi S, Anada T, Imaizumi H, Suzuki O. Evaluation of osteoclastic resorption activity using calcium phosphate coating combined with labeled polyanion. Anal Biochem. 2011;410(1):7-12.
Kim J-L, Kang S-W, Kang M-K, et al. Osteoblastogenesis and osteoprotection enhanced by flavonolignan silibinin in osteoblasts and osteoclasts. J Cell Biochem. 2012;113(1):247-259.
Miyazaki T, Miyauchi S, Tawada A, Anada T, Suzuki O. Effect of chondroitin sulfate-E on the osteoclastic differentiation of RAW264 cells. Dent Mater J. 2010;29(4):403-410.