8 June 2015
MAPK pathway
Wide range of antibodies specific for MAPK targets that have been validated for use in various applications.
ERK pathway
The extracellular signal-regulated kinase (ERK) pathway represents one of four mammalian mitogen-activated protein kinase (MAPK) systems responsible for reacting to various extracellular stimuli. While at least two of the other pathways respond primarily to various extracellular stress signals, ERK activation is predominately triggered by growth factors. These extracellular signals are transduced largely by tyrosine kinase receptor complexes that subsequently stimulate Ras to activate Raf, leading to MEK1/2 and then ERK1/2 activity. The ERK pathway is crucial for normal cellular proliferation, differentiation, and survival, with abnormal stimulation linked to human carcinogenesis.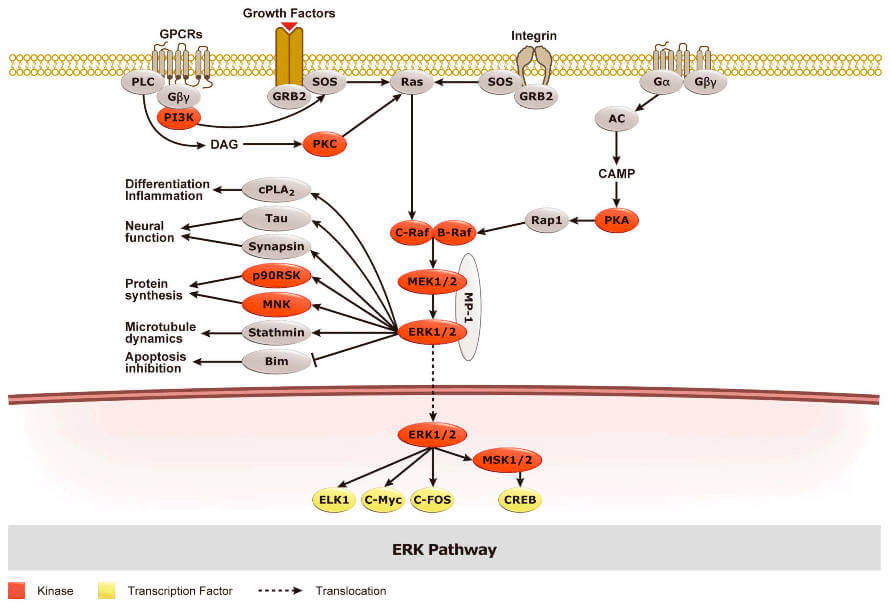 Key ERK targets
JNK pathway
The c-Jun-N-terminal kinase (JNK) pathway is one of four major mitogen-activated protein kinase (MAPK) pathways in mammals. Receptor-initiated signals generated by cell exposure to stress, cytokines, pathogens, toxins, or drugs activate the JNK pathway through MAP4Ks and the three-Ievel (MAP3K / MAP2K / MAPK) kinase backbone that culminates in activation of the MAPK JNKs. Activated JNKs target at least 50 substrates including transcription factors and mitochondrial proteins Regulation of these substrates by the JNKs directly impacts pivotal cellular processes involving cell fate, inflammation, metabolism, and carcinogenesis.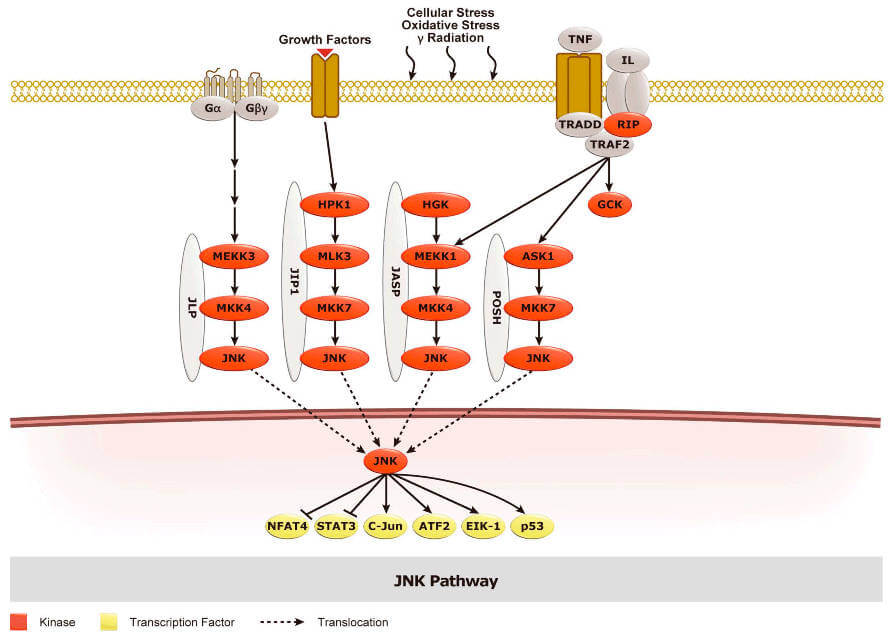 Key JNK targets
p38 MAPK pathway
The p38 MAPK pathway is one of four MAPK systems in mammals that mediate cellular responses to external stimuli including stress and cytokines, among many others. The p38 MAPKs (α, β, γ, and δ), which are situated at the end of the canonical three-tier kinase cascade that is characteristic of these MAPK pathways, are intimately involved in fundamental cellular processes such as proliferation, differentiation, apoptosis, and metabolism. They also appear to be central players in many clinically important conditions, including autoimmunity, neurodegenerative disease, and cardiac ischemia.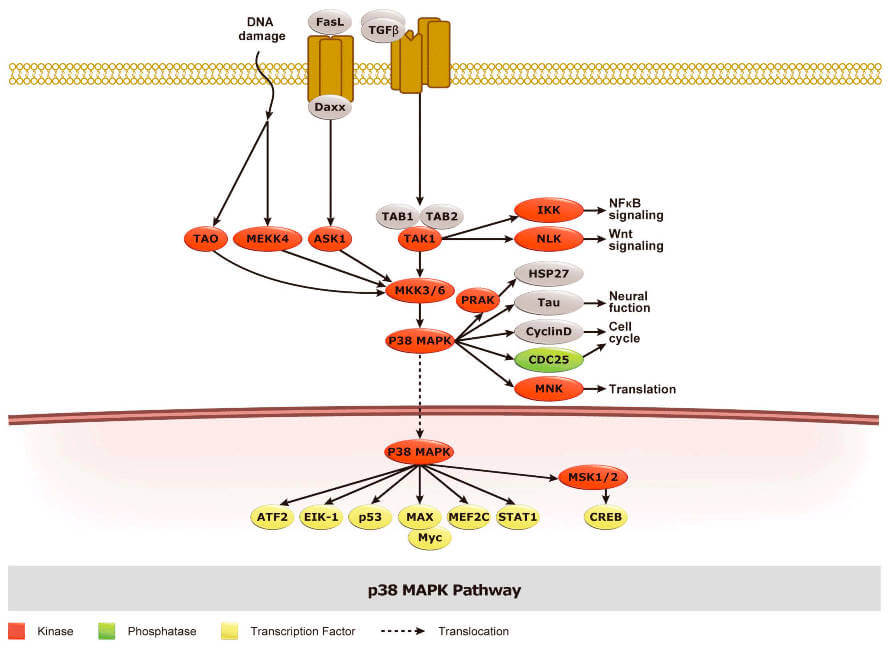 Key p38 MAPK targets
ERK5 pathway & other MAPK family members
Use our search engine to find your antibody. Search your target and fine-tune with the filters. You can filter on many features such as: application, species, host, conjugation, isotype, clonality, brand and more. If you still can't find your antibody, request it here and we will locate it for you.