20 April 2023
GeneTex's recombinant antibodies for neuroscience research
Neuroscience is a multidisciplinary field that includes neurobiology, neuroanatomy, neurochemistry, neurophysiology, neuropharmacology, and other related areas. It aims to investigate the structure and function of the nervous system at the molecular, cellular, and organismal levels. By elucidating underlying mechanisms, neuroscience offers valuable insight into neurological and psychiatric conditions that affect the world population clinically, socially, and economically. Hence, neuroscience will remain a major focus of biomedical research efforts across the planet.
Recombinant monoclonal antibodies (rAbs) have become invaluable tools for basic academic and clinical neuroscience research. Recombinant technology allows antibodies to be cloned and therefore defined by their amino acid sequence, ensuring consistent identity and performance as well as inexhaustible supply. In addition, they can be easily engineered to meet researcher needs. These unique attributes distinguish rAbs from traditional polyclonal and hybridoma-based monoclonal antibodies, where lot-to-lot variability has precipitated problematic issues such as irreproducible performance and supply unreliability.
GeneTex, a multinational antibody manufacturing company, recognizes the significance of antibody fidelity, application-dependent reliability, and performance consistency in ensuring research integrity. To address these concerns, GeneTex has established a recombinant rabbit monoclonal antibody production platform that is coupled with enhanced validation standards. The objective is to produce dependable recombinant monoclonal antibodies that can deliver reproducible data in experimental applications commonly utilized by neuroscientists.
The manufacturing process is based on the approach described by Starkie et al. (2016) (1). The technique employs a multi-parameter fluorescence-activated single cell sorting (FACS) methodology to select antigen-specific IgG+ memory B cells from an immunized rabbit. The antibody variable region genes from selected cells are then cloned into an IgG backbone and introduced into mammalian cells for expression. This technique is particularly advantageous because it allows for the cloning of both heavy and light chains from the same B cell, thereby maintaining natural pairing. Furthermore, the manufacturing sequence enables pre-validation through application-specific assessments, such as western blot (WB), immunohistochemistry (IHC), and immunocytochemistry (ICC/IF), during clone selection. Successful antibodies then undergo a strict evaluation process based on GeneTex's 5+1 Pillar Validation Plan (Figure 1), which relies on siRNA knockdown or CRISPR-generated knockout lysates as well as four other validation strategies outlined in the landmark Uhlen et al. (2016) study (2).
Using this production and validation workflow, GeneTex has developed well-characterized recombinant antibodies for a range of protein targets critical for neuroscience research. The company is continuously adding new antibody reagents for neuroscience and other biomedical research fields to its catalog. By employing this approach, GeneTex aims to manufacture high-quality antibodies that will support researchers in their quest for scientific discovery.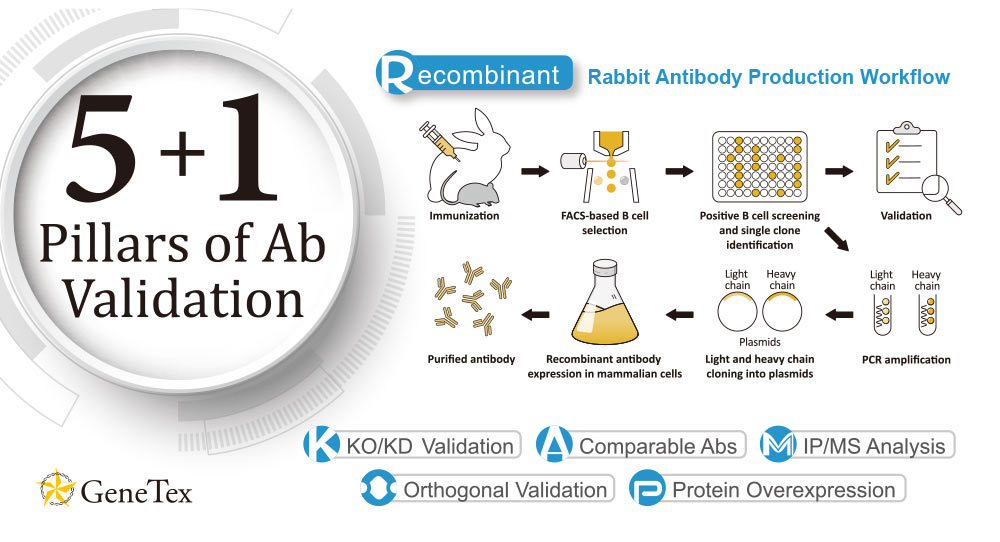 Highlighted products
Neurites and synapses
Neural markers
Neurotransmission
Neurodegenerative disorders
Vision and retina
References
Starkie Dale O, Compson JE, Rapecki S, Lightwood DJ. Generation of recombinant monoclonal antibodies from immunised mice and rabbits via flow cytometry and sorting of antigen-specific igg+ memory b cells. PLoS One. 2016;11(3):e0152282.
Uhlen M, Bandrowski A, Carr S, et al. A proposal for validation of antibodies. Nat Methods. 2016;13(10):823-827.
GeneTex's recombinant antibodies for neuroscience research