Solis BioDyne
PCR, qPCR and RT-qPCR reagents
Solis BioDyne has been developing and producing life science reagents since 1995. High standards for production and service have made them a trusted trademark worldwide. Their DNA polymerases, dNTPs, PCR and QPCR master mixes and other reagents are supplied by Bio-Connect. These products are used by a quickly growing number of customers across the globe, including top research institutes and biotechnology companies. Please contact our helpdesk if you have any questions.
Bio-Connect Life Sciences supplies all their products in the Benelux. If you have any questions, please contact the helpdesk.
Major product lines from Solis BioDyne
cDNA synthesis
DNA ladders
Nucleotides
One-step RT-qPCR
PCR/qPCR master mixes and PCR enzymes
20% off on the SolisFAST® range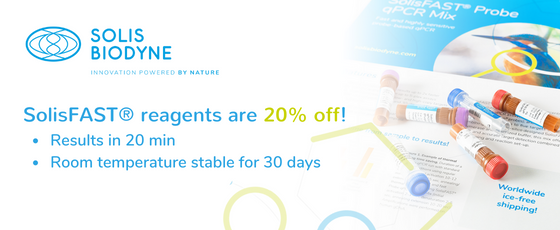 Until the end of the year, we are offering 20% discount on SolisFAST® reagents. Most tolerant qPCR range in the market!
*Conditions
Offer is valid until the 31st of December 2022.
Solis BioDyne as your business partner for PCR kits
They are cooperating with
With some of the leading kit manufacturers in Europe with private & government contracts
From local SME's to branches of global corporations
Substantial testing volume in target regions. E.g. Scandinavia, France, Switzerland
Applications from outpatient testing to food safety analysis
Their core skills, that will benefit your solutions, are
High quality development and manufacturing
Innovation and R&D
Flexibility and speed of action
Strategic partnership
Committed product management, technical support, and R&D
Help with optimization and implementation
Publications with products by Solis BioDyne
Solis BioDyne