13 February 2019
CAR-T Cell Therapy
One-stop research reagents for CAR-T cell therapy from Sino Biological.
Two landmark events occurred for CAR-T cell therapy in 2017: two anti-CD19 CAR-T cells were approved by FDA for the therapy of acute lymphoblastic leukemia (ALL) and relapsed or refractory large B-cell lymphoma, respectively. From then, increasing number of researchers have been dedicated to CAR-T cell therapy research.
What is CAR-T cell therapy?It is a kind of cell immunotherapy featured by its distinct research procedures (depicted in Fig. 1): Peripheral blood is collected from the patient firstly. Then T cells are isolated and stimulated. The cells are cultured and expanded after genetically engineered to express chimeric antigen receptors (CARs), which can recognize a specific tumor associated antigen, such as CD19, BCMA and CD20. Finally, the CAR-T cells will go through quality control and are reinfused into the patient.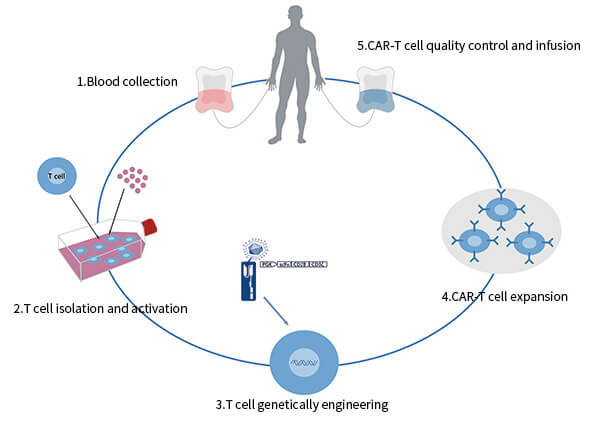 Sino Biological provides not only quality CAR-T cell therapy target proteins, but also varied research reagents for the whole process of CAR-T cell therapy, such as high-quality cytokines, T cell related FACS antibodies, T cell activation antibodies, cytokine ELISA kits, apoptosis detection kits, Sinofection tranfection reagents and Supernuclease.
Solid tumors target proteins
Solid tumor-associated antigens are expressed at low levels in normal tissues. Meanwhile, solid tumors have heterogeneity. Even within the same tumor region from the same patient, tumor cells might express different tumor-associated antigen. Therefore, choosing a target is a significant challenge for CAR-T cell therapy against solid tumors.
Hematologic malignancies target proteins
CD19 is the most widely used hematologic malignancy target in CAR-T cell therapy and good therapeutic effects have been achieved in clinical trials of hematological malignancies such as B-ALL, CLL, FL, DLBCL and MCL. In addition to CD19, molecules such as CD20, CD22, CD30, IL3RA are also hot targets for hematologic malignancies research, especially for CD19-negative hematologic malignancies. Sino Biological has a variety of hematologic malignancies target proteins, which can be used to detect CAR expression on T cells.
T cell activation antibodies
Before T cell engineering, T cells which are collected and isolated from the patient's peripheral blood need to be activated. CD3, CD28 antibodies are commonly used for T cell activation in vitro.
High-quality cytokines for CAR-T cell expansion and culturing