16 August 2022
LSBio continues to expand its IHC-Plus™ antibody collection
As demand for immunohistochemistry-validated antibodies increases, LSBio offers IHC-Plus™ antibodies that deliver optimal performance in IHC studies on formalin-fixed paraffin-embedded (FFPE) human tissues.
LSBio's IHC-Plus™ antibodies have been rigorously tested to deliver best-in-class sensitivity and specificity in immunohistochemistry (IHC) studies on FFPE human tissues. As demand for IHC validation increases, LSBio continues to add new antibodies to its IHC-Plus™ collection.
Using a standardized IHC-Plus™ protocol, each antibody is tested at multiple concentrations on more than 20 normal human tissue types, and when appropriate, multiple normal brain regions and/or cancer types. The localization profile of each antibody is analyzed, identifying positive and negative cell types, signal strength, subcellular and extracellular staining, and staining artifacts. This information is then compared with all published expression and localization data available for the protein.
The process enables the evaluation of how each antibody behaves in IHC, including its specificity to the target protein, its sensitivity of detection, and any non-specific staining characteristics that it may display. In order to be selected as an IHC-Plus™ antibody, antibodies must have a close correlation to the published literature, be high affinity, display minimal staining artifacts, and have a high signal-to-noise ratio, such that its specific staining is considerably higher than its level of nonspecific background staining.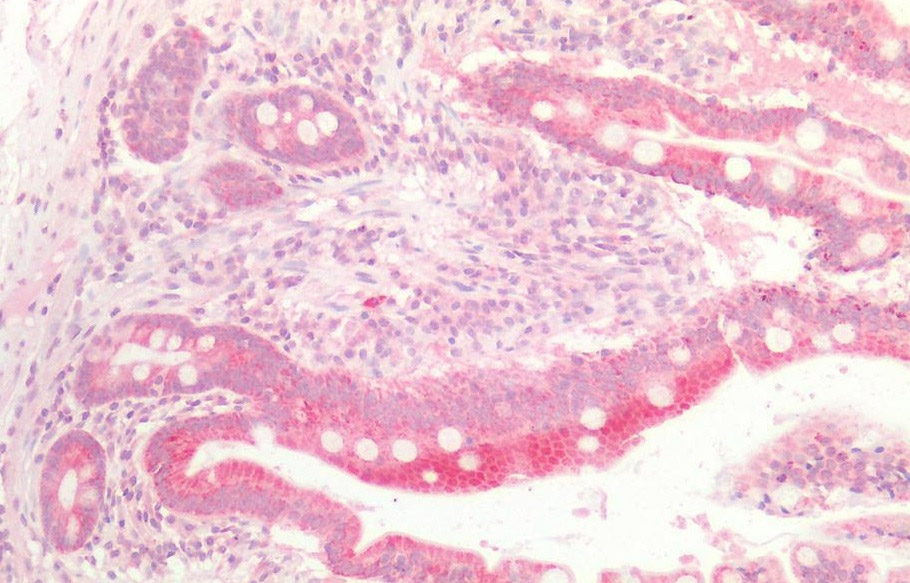 A wide variety of antibodies are available with IHC-Plus™ validation, including monoclonal antibodies (mouse, rabbit, rat), polyclonal antibodies (rabbit, goat, sheep, llama, chicken), and human single- and double-chain antibodies. The collection focuses on antibody clones useful for research pathology applications, in particular biomarker antibodies for studying cancer and neurodegenerative diseases.
IHC-validated antibodies are an important tool for both clinicians and scientific researchers, as immunohistochemistry is employed for identification of cell or tissue antigens, from amino acids and proteins to infectious agents and specific cellular populations. For the clinician, the IHC method allows for the diagnosis of specific diseases and histological origins of cells that cannot be determined by morphological visualization. In the research community, the strength of immunohistochemistry to localize the expression of a specific target protein is a valuable tool.
With so many applications for IHC-validated antibodies, LSBio continues to grow its IHC-Plus™ antibody collection. Visit LSBio.com to view all available targets, species and conjugates.
Bio-Connect Life Sciences supplies all IHC-Plus™ antibodies in the Benelux. If you have any questions, please contact the helpdesk.
LSBio continues to expand its IHC-Plus™ antibody collection