15 November 2022
LSBio offers breast cancer IHC marker antibodies
LSBio continues to expand its collection of breast cancer immunohistochemistry (IHC) marker antibodies, offering IHC-Plus™ antibodies rigorously validated for IHC applications on FFPE human tissues.
LSBio, now part of Absolute Biotech, offers a wide range of immunohistochemistry (IHC) markers and other antibody reagents to advance research into breast cancer, the most common malignancy in women worldwide. In particular, LSBio's IHC-Plus™ antibodies have been rigorously validated to deliver optimal performance in IHC studies on formalin-fixed paraffin-embedded (FFPE) human tissues.
Immunohistochemistry breast cancer markers are used in clinical and research settings to provide insights into a variety of disease processes, including tumor growth and metastatic potential. For example, breast cancer is classified by using microscopic morphologic criteria along with standard clinical IHC markers for HER2 and ER/PR to predict if a patient's tumor will respond to Herceptin or hormone therapy. In addition, IHC markers for breast cancer help distinguish in situ from invasive carcinomas (KRT14 and KRT5), differentiate subtype ductal from lobular carcinomas (E-cadherin, p120, FOXA1, GATA3), determine mammary origin of a metastatic carcinoma (CK7, CK20, Mammaglobin A), and highlight tumor proliferation and apoptosis (Ki-67, BCL2, TP53).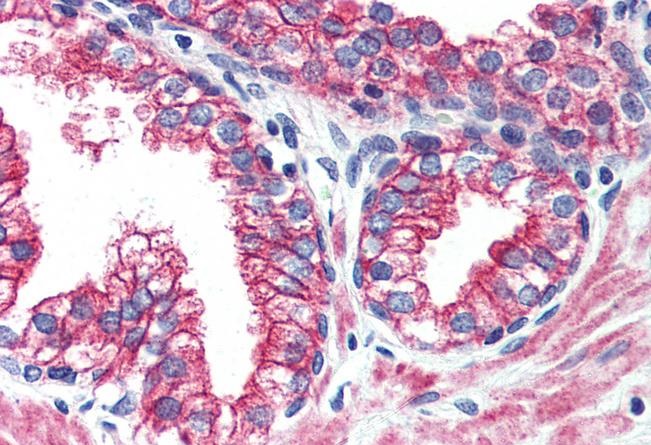 For these markers and more, the LSBio catalog includes antibodies specifically validated for IHC applications. The IHC-Plus™ antibodies are tested at multiple concentrations on more than 20 normal human tissue types, and when appropriate, multiple normal brain regions and/or cancer types. The localization profile of each antibody is analyzed, identifying positive and negative cell types, signal strength, subcellular and extracellular staining, and staining artifacts. This information is then compared with all published expression and localization data available for the protein.
The process enables the evaluation of how each antibody behaves in IHC, including its specificity to the target protein, its sensitivity of detection, and any non-specific staining characteristics that it may display. In order to be selected as an IHC-Plus™ antibody, antibodies must have a close correlation to the published literature, be high affinity, display minimal staining artifacts, and have a high signal-to-noise ratio, such that its specific staining is considerably higher than its level of nonspecific background staining.
LSBio's breast cancer IHC markers can be used to identify the deregulation or pathogenic activation of various cell cycle pathways in breast cancer. To view all available antibody targets, visit LSBio's website.
LSBio offers breast cancer IHC marker antibodies