27 September 2022
Making the ideal antibody conjugate has never been easier!
Easily label your own antibody with a selection of over 30 CF® Dye labels using Mix-n-Stain™ Antibody Labeling Kits
Are you searching for the right labeled antibody to build your panel? Conjugating the antibody yourself can be a solution, but often requires complex protocols, specific buffers, and tedious downstream purification steps. Mix-n-Stain™ Antibody Labeling Kits dramatically simplify the process of antibody labeling and produce bright and stable conjugates for flow cytometry, microscopy, and other applications.
Advantages of Mix-n-Stain™ Antibody Labeling Kits
Fast & Easy: 15-minute labeling, minimal hands-on time, no downstream purification
Choice of Labels: More than 30 CF® Dyes plus FITC, Cy®3, Cy®5, biotin, & others
Patented Buffer System: Tolerates BSA, Tris, gelatin, azide, & more
Multiple Sizes: Label <5 ug up to 1 mg antibody, 3-pack kits available
Mix-n-Stain™ kits feature a unique patented buffer system that provides both convenience and flexibility with its high tolerance for common antibody solution components, including BSA, Tris, gelatin, trehalose, azide, and ascites fluid. The entire labeling process only requires a single 15-minute incubation step and produces a conjugate with a highly stable covalent bond. There are no downstream separation or purification steps, which allows for 100% antibody recovery. The resulting conjugates offer superior performance over those produced by other commercially available antibody labeling kits (Figure 1).
Mix-n-Stain™ kits are offered with the broadest range of fluorescent labels, featuring over 30 bright and photostable CF® Dyes from blue to near-infrared emission. The kits are available with a wide selection of batch sizes, including options for labeling less than 5 ug and up to 1 mg of antibody. Biotium also offers Mix-n-Stain™ kits for labeling with R-PE, APC, or novel tandem CF® Dyes, preparing enzyme-linked antibody conjugates, labeling small ligands, and more.
If you have not experienced the advantages that CF® Dyes offer, watch Biotium's video to discover the unique innovations that make CF® Dyes the best choice for your experiment.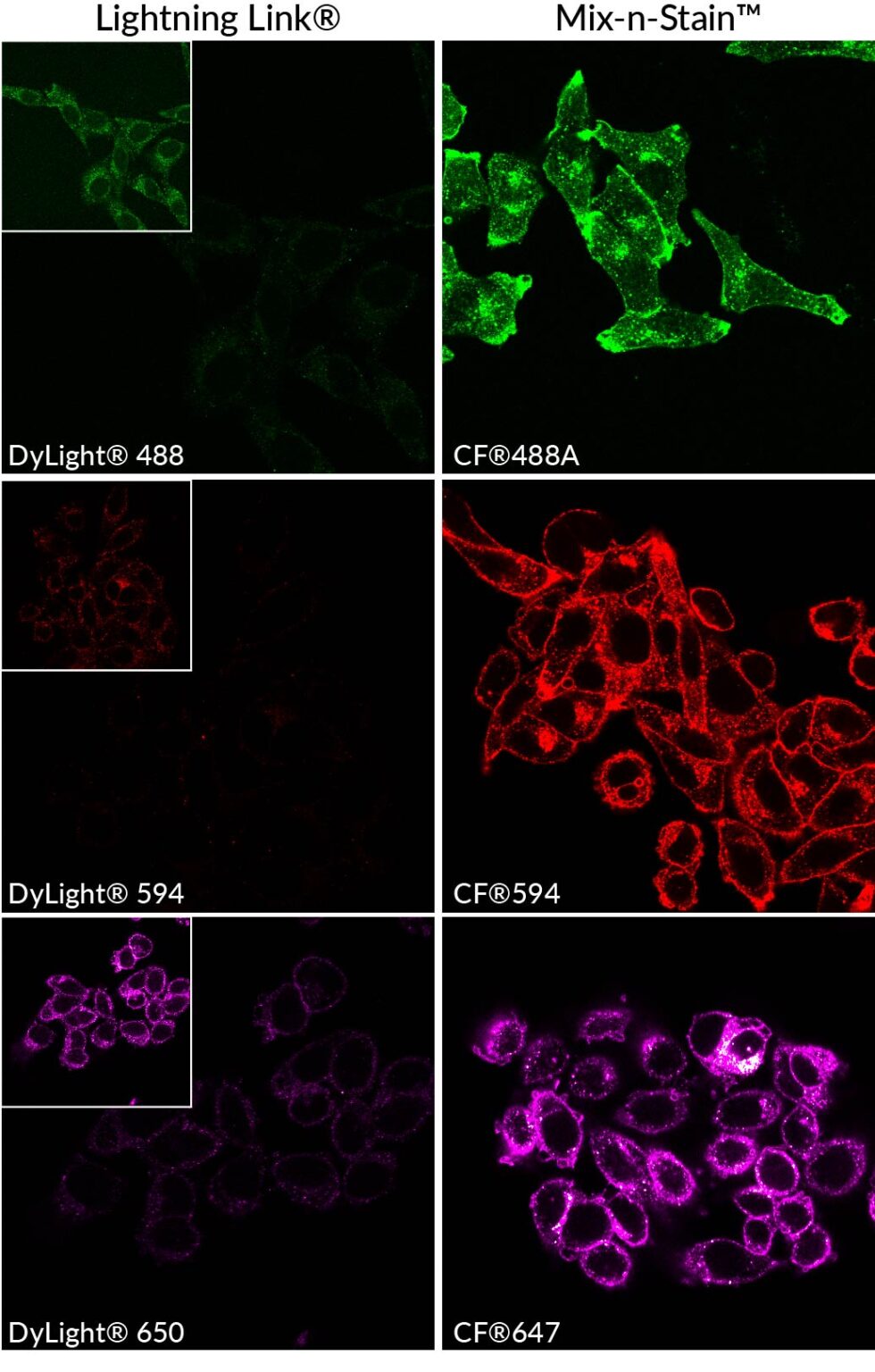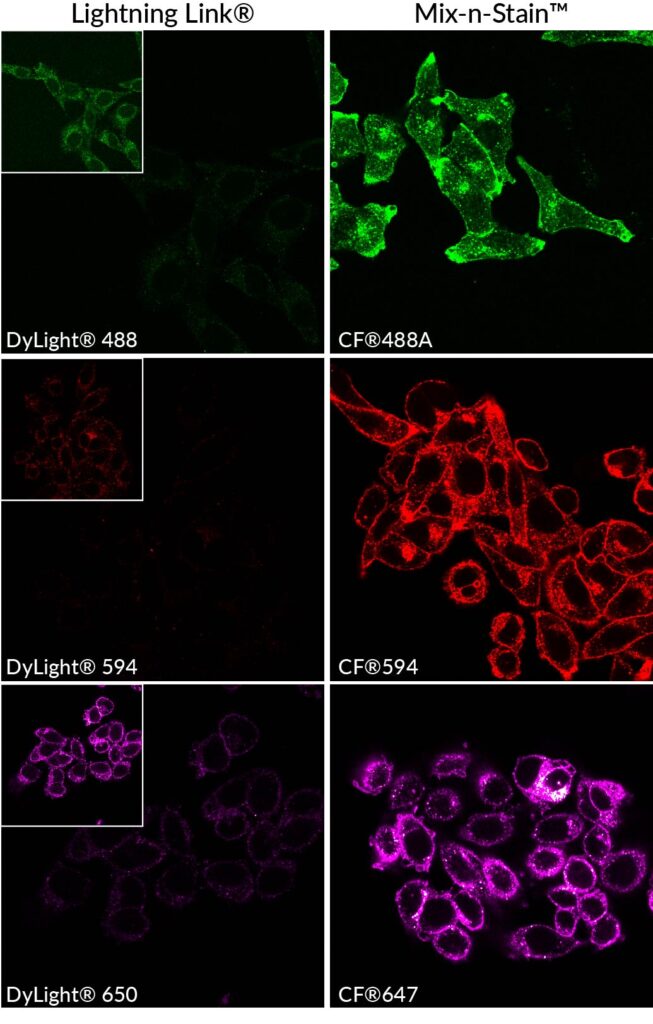 Figure 1. Mouse anti-transferrin receptor antibody from (endosome and plasma membrane marker) was labeled using Lightning-Link® Rapid DyLight® Conjugation Kits from Novus Biologicals (left) or Mix-n-Stain™ CF® Dye Antibody Labeling Kits (right) according to manufacturers' instructions. The CF® Dye conjugates show higher signal and more specific staining compared the DyLight® conjugates when imaged using the same settings, due to the superior brightness of CF® Dyes. The insets show the same field of view imaged with a higher gain setting.
Making the ideal antibody conjugate has never been easier!