28 June 2022
Still culturing for microbial viability? Upgrade to v-PCR
Viability PCR (v-PCR) with PMA and PMAxx™ allow selective detection of viable bacteria, fungi, or viruses. More rapid, sensitive, and specific than plate-based viability assays.
v-PCR intuitively merges the specificity and sensitivity of qPCR-based methods with a dead cell selective dye. The technique is extremely versatile and can be applied to numerous species of bacteria, eukaryotes, viruses, and archaea. The advantage of v-PCR is that it allows specific and quantitative strain detection without the need to cultivate the target organisms. For this reason, v-PCR can be used for viable but non-culturable, or VBNC bacteria. There are also many publications that have adapted the technique to analyze large dilute samples or complex samples such as soil or feces.
An industry leader in v-PCR
PMA is the v-PCR dye of choice among industry leaders, and has been validated in hundreds of peer-reviewed publications and numerous strains of bacteria, fungi, and viruses. Early studies focused on v-PCR in bacteria, validating the procedure in dozens of different bacterial strains such as E. coli, Listeria, Legionella, Lactobacillus, M. tuberculosis, Chlamydia, H. pylori, and many other strains with relevance to human health. v-PCR has been most widely used in bacteria, but there are also dozens of publications using v-PCR in yeast and fungi, viruses, as well as a variety of other cell types such as archaea, amoeba, and parasites.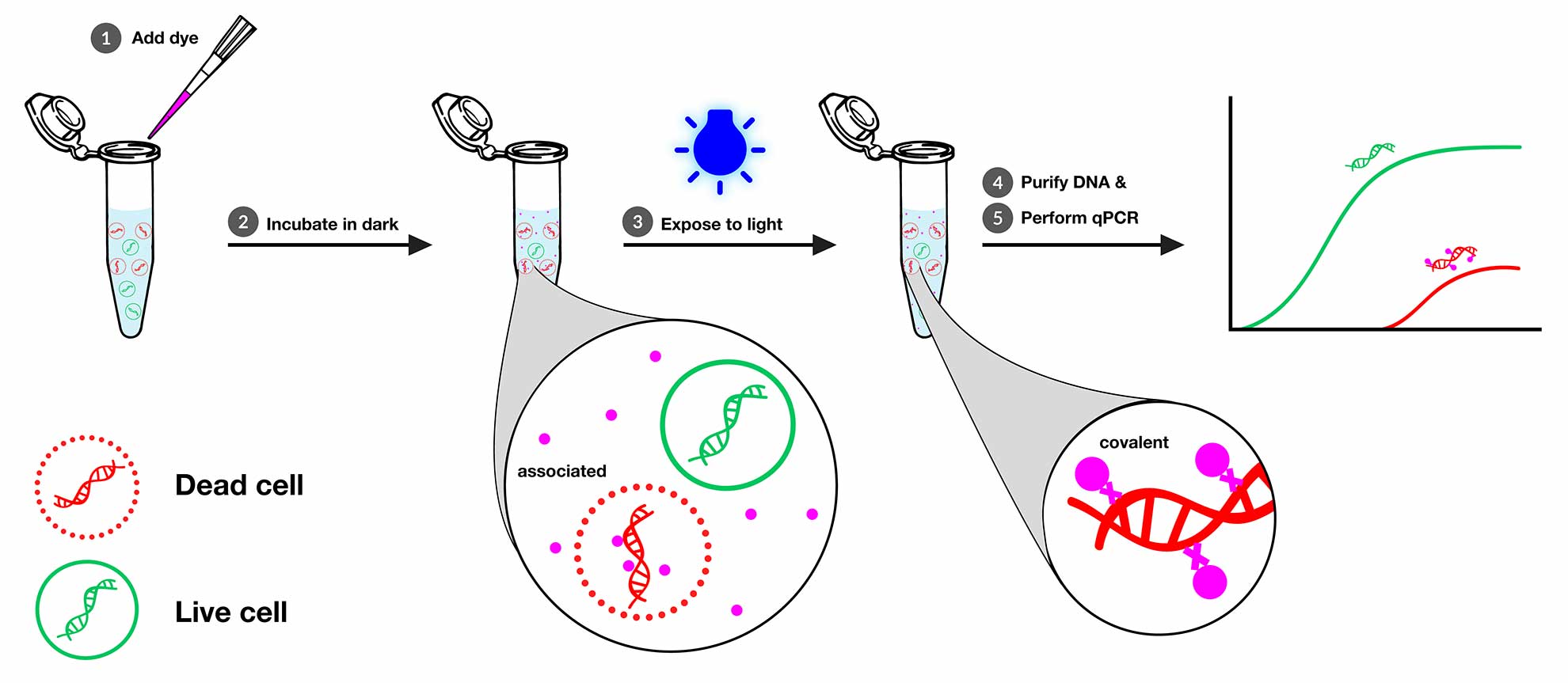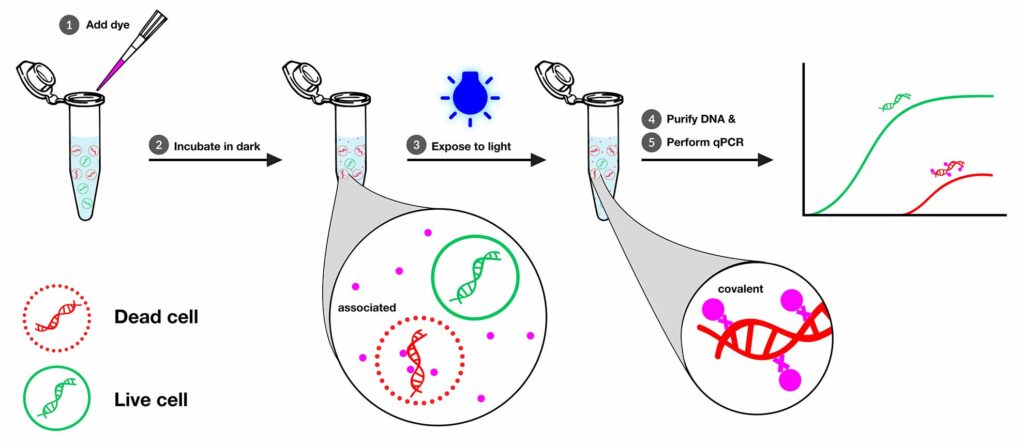 PMAxx™, a new and improved v-PCR dye
Biotium has further advanced the field of v-PCR with the release of PMAxx™, a superior next-generation v-PCR dye that provides greater live/dead discrimination. PMAxx™ more effectively suppresses DNA amplification from dead cells, demonstrating an increase of dead cell selectivity by 3-7 Ct in qPCR compared to PMA in laboratory bacterial strains (Figure 2).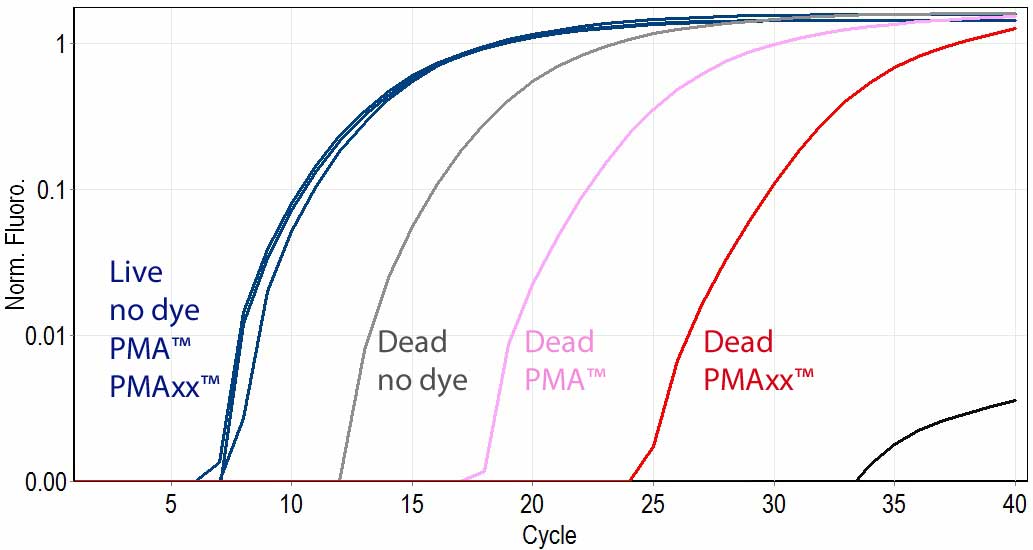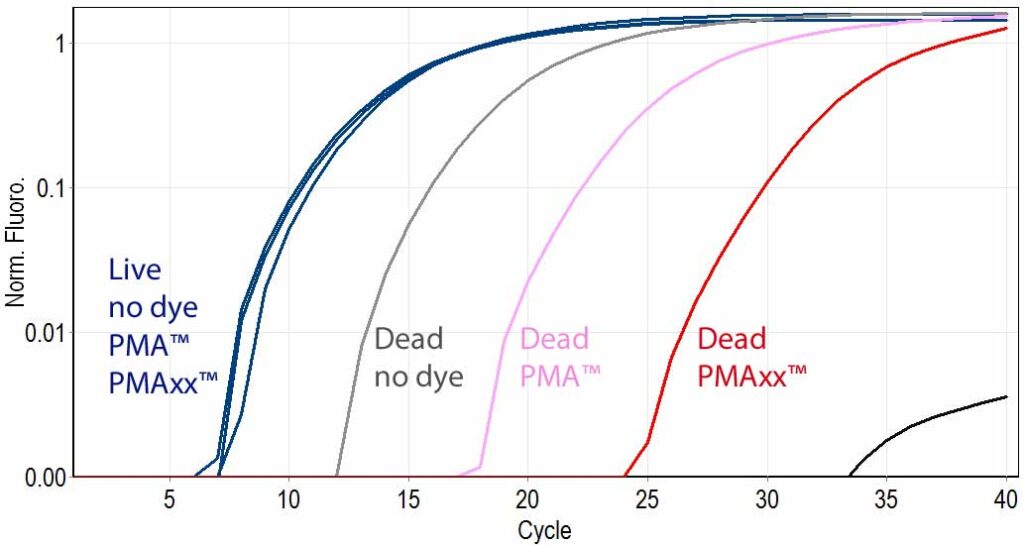 v-PCR products
Downloads
Still culturing for microbial viability? Upgrade to v-PCR