7 April 2022
FDA new approvals mitapivat (PYRUKYND)
Mitapivat, a potent activator of PK-R, is approved on February 17 2022, which is the first Disease-Modifying Therapy for hemolytic anemia in adults with PKD.
How mitapivat play its role?
Pyruvate kinase (PK) plays an important role in the glycolytic pathway, which is critical for erythrocyte cellular maintenance and survival. Reduced activity of PK in PKD leads to less production of ATP in erythrocytes, red cell destruction in the form of hemolytic anemia and ineffective erythropoiesis.
Mitapivat, an orally active allosteric activator of PK, is approved for the treatment of hemolytic anemia in adults with pyruvate kinase deficiency (PKD).



RBC metabolism in vivo in C57/BL6 mice
AG-348 (oral gavage; 1mg/kg, 10mg/kg, 50mg/kg, and 150mg/kg; 7 days) leads to the change of pharmacodynamic markers, including levels of ATP, 2,3-DPG, and PK-R activity.
PK-R activity levels are increased up to 2-fold over vehicle with residual activity detectable up to 36 h.; ATP levels is increased in the AUC0-12 hrs, 2,3-DPG is reduced accordingly by 20%.


In a β-thalassemia mouse model
Mitapivat (Oral gavage, 50 mg/kg, twice a day, 21 days) improves anemia in a model for β-thalassemia.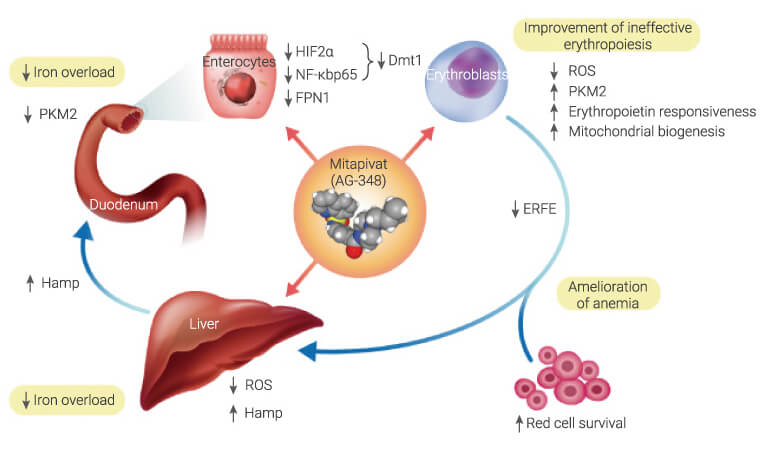 Ameliorates ineffective erythropoiesis in Hbbth3/+ mice. Reduces liver iron overload and oxidative stress, increases liver hepcidin expression in Hbbth3/+ mice.
Why choose MedChem Express?
MedChem Express offers a wide range of high quality research chemicals and biochemicals includinxg novel bioactive compounds, dye reagents, peptides and natural compounds for laboratory and scientific use.
Over 30,000 bioactive molecules in stock
Quality repors (LC/MS, NMR and HPLC) for each product
Release more than 500 of the newest biochemicals per month
High purity and competitive prices
Target 500+ key proteins in 20+ signaling pathways
FDA new approvals mitapivat (PYRUKYND)