28 September 2023
GeneTex's recombinant antibodies for cancer research
Cancer research overview
Cancer is a complex group of diseases characterized by the uncontrolled growth of abnormal cells with both local invasion and distant metastasis. As the second leading cause of global deaths, it accounts for over eight million cancer-related fatalities annually. There are more than 100 types of cancer, each displaying significant genetic and phenotypic variations that occur even within the same tumor type. The worldwide cancer burden places immense strain on individuals, families, and healthcare systems, particularly in low- and middle-income countries where access to quality care is limited (1).
Basic and clinical research remains a powerful weapon against this scourge, leading to notable advancements in cancer diagnosis, treatment, and prevention. Scientists have made substantial progress in understanding the mechanisms driving carcinogenesis and metastasis, offering potential therapeutic targets to combat cancer effectively. Much of this progress is due to the availability of reliable molecular tools, such as antibodies, to facilitate discovery.
To accelerate cancer research, GeneTex has maintained a longstanding commitment to providing high-quality, well-validated antibodies and reagents to scientists. To this end, GeneTex is leveraging its state-of-the-art technical platform and augmented validation strategies to produce recombinant rabbit monoclonal antibodies, to produce recombinant rabbit monoclonal antibodies that include the recently cited RAS (G12D mutant) antibody [HL10] (GTX635362) (Fig. 1). Additional antibodies to support cancer research are being added to the company's product catalog on a continuous basis.

Technical platform for HL clone production
GeneTex's antibody manufacturing philosophy spans the entire arc from target identification, through immunogen design, immunization, screening, and then to validation. Following the company's established success generating conventional polyclonal and hybridoma-derived monoclonal antibodies, GeneTex has since pivoted to a recombinant rabbit monoclonal antibody production platform that will be the mechanism for all new antibody reagents added to the company catalog (2). The rabbit immune system offers several advantages for monoclonal antibody creation, including a broad antibody range, less complex immunoglobulin (Ig) structure, higher binding affinities, and a larger pool of lymphocytes from which to select clones (Fig. 2) (3).
The production workflow leverages a multi-parameter fluorescence-activated single cell sorting (FACS)-based approach to select antigen-specific IgG+ memory B cells from an immunized rabbit. The antibody variable region genes from desired cells are PCR-amplified and cloned into an IgG backbone with subsequent transfection into and expression by mammalian cells. Application-specific testing (e.g., for western blot (WB), immunohistochemistry (IHC), or immunocytochemistry (ICC/IF), etc.) can be performed during clone expansion. GeneTex has also implemented enhanced validation protocols to assess the antibodies, and when possible engages outside labs or companies for more extensive testing (i.e., for immunohistochemistry). These new recombinant monoclonal antibodies are distinguished by an "HL" in their clone designation (e.g., [HL10]).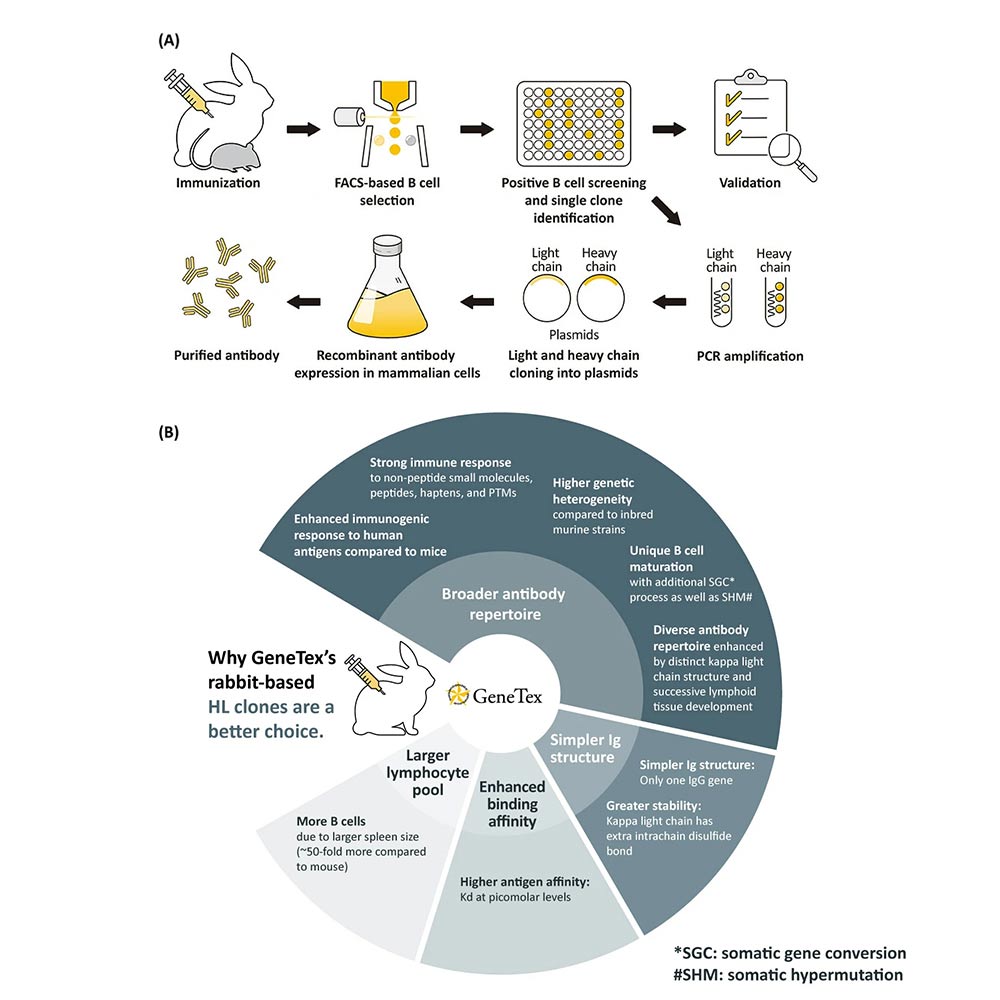 HL clone IHC validation with tissue arrays
In addition to already stringent product validation protocols, GeneTex further evaluates HL clone performance for IHC through the use of human normal and tumor tissue arrays (see "Highlighted Products" below). These analyses are carried out both inhouse and with outside entities that have proven expertise in IHC. GeneTex understands that a thorough assessment of an antibody for IHC requires clear demonstration that it is both sensitive and specific, which can only be ascertained by testing on a range of tissues. Only through this comprehensive profiling can researchers trust that a reagent is sufficiently reliable to use on their tissue samples, which are often in limited supply.
GeneTex will continue to expand its catalog of IHC-validated recombinant rabbit monoclonal antibodies against targets of great interest to cancer biologists.
References
Highlighted products

Human Normal and Cancer Tissue Arrays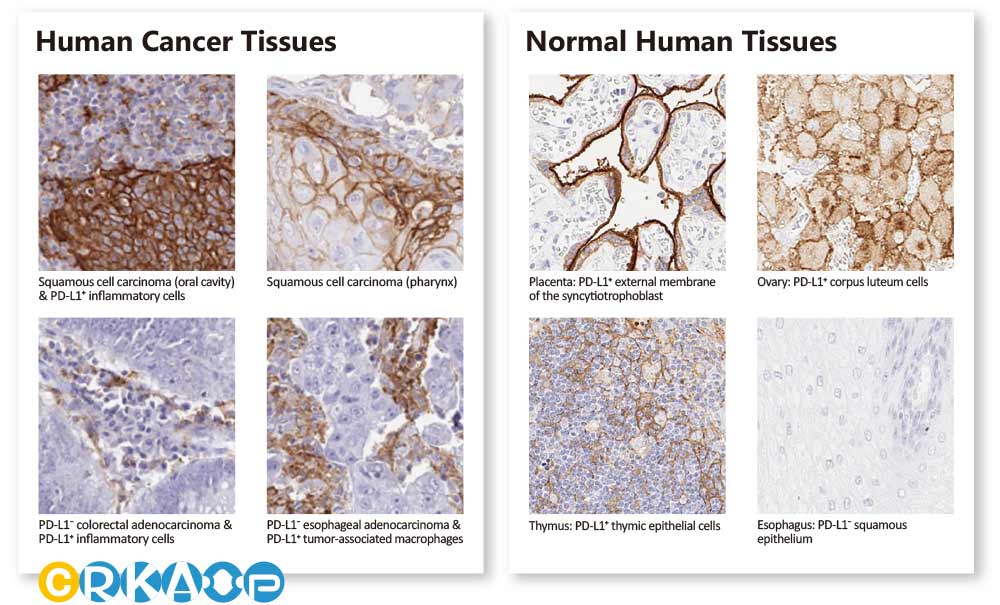 Breast Cancer
Cervical Cancer
Colorectal Cancer
Esophageal Cancer
Glioblastoma
Hepatocellular Cancer
Lung Cancer
Pancreatic Cancer
Prostate Cancer
Oral Cancer
Ovarian Cancer
GeneTex's recombinant antibodies for cancer research