16 November 2023
GeneTex's recombinant antibodies for cell biology research
Cell biology research reagents from GeneTex: Overview
Cell biology is dedicated to understanding the structure and functions of the cell. It encompasses a diverse body of research specialties that include, among others, metabolism, subcellular composition (e.g., organelles), intercellular communication, cell cycle/replication, differentiation, and cell death. Knowledge at the cellular level establishes a foundation for comprehending the biology of tissues, organs, organ systems, and organisms. Cell biology research is also inherent in other disciplines like microbiology, neurobiology, immunology, genetics, and many other fields. Ultimately, cell biology serves as the key to unlocking the mysteries of life in addition to the insights necessary for diagnostic and therapeutic advances in biomedicine.
To support cellular biology research, GeneTex is broadening its already extensive inventory of standard polyclonal and hybridoma-based monoclonal antibodies with a state-of-the-art recombinant monoclonal antibody production platform and enhanced validation strategies. The goal is to provide researchers with highly validated reagents to accelerate their work.
GeneTex's technical platform for "HL" clone production
While maintaining its standard polyclonal and monoclonal antibody catalog, GeneTex has pivoted all new production to the creation of recombinant monoclonal antibodies. The process begins with meticulous target antigen analysis and extends through immunization, clone isolation and assessment, and then scrupulous application-specific validation. The advantages of recombinant antibody technology are well-documented: consistent performance with little or no batch variability, scalability, and inexhaustible supply.
The production workflow involves isolation of antigen-specific IgG+ memory B cells from immunized animals using fluorescence-activated cell sorting (FACS) (Fig. 1) (1). These cells are then cultured individually and undergo further analysis and testing for one or more applications of interest. This approach preserves the pairing of the matched heavy and light chains from the same B cell, with the respective chains from the most promising cell clones subsequently introduced into plasmids in an IgG format. These plasmids can then be transfected into mammalian cells for scalable production whenever necessary. Importantly, though plasmid cloning makes antibody engineering very straightforward, performing this process in rabbits offers the benefits associated with the rabbit immune system: large lymphocyte pool, enhanced binding affinity, simpler Ig structure, and broader antibody repertoire (2). In the GeneTex catalog, these new recombinant monoclonal antibodies are designated by the "HL" in their clone name.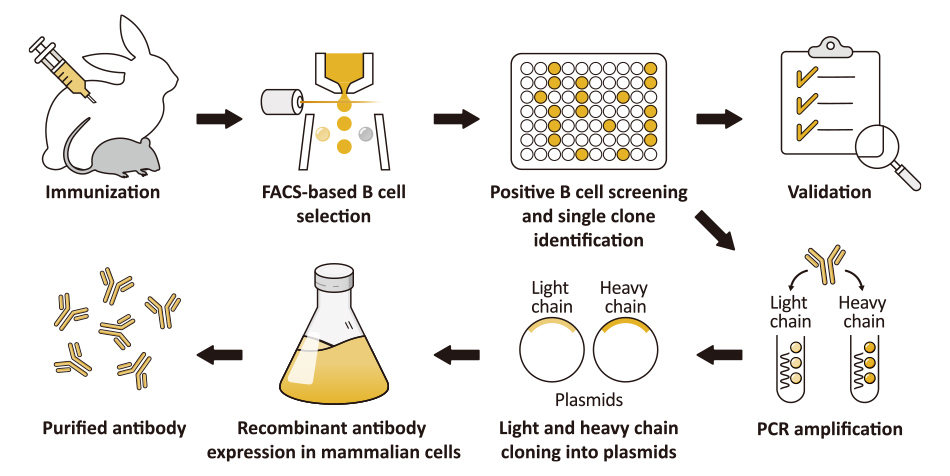 GeneTex is adding new "HL" clones to its approximately 50,000-product catalog on a weekly basis, with the vast majority of these being directed against targets relevant to cell biology research. For some examples of these reagents, please see the "Highlighted Products" listed below. Providing reliable biomedical reagents to drive life science research remains GeneTex's primary focus.
References
Starkie DO, Compson JE, Rapecki S, Lightwood DJ. Generation of recombinant monoclonal antibodies from immunised mice and rabbits via flow cytometry and sorting of antigen-specific igg+ memory b cells. PLoS One. 2016;11(3):e0152282.
Weber J, Peng H, Rader C. From rabbit antibody repertoires to rabbit monoclonal antibodies. Exp Mol Med. 2017;49(3):e305.
Highlighted products

Cell metabolism
Cell markers
Organelle markers
Cell cycle
Regulated cell death
GeneTex's recombinant antibodies for cell biology research