5 April 2022
High quality PD-L1 recombinant antibody for IHC assay
GeneTex has worked with independent labs to validate the quality of its PD-L1 recombinant rabbit monoclonal antibodies (GTX636033 and GTX635975). The data demonstrates the antibody's superior signal-to-noise ratio.
Programmed death ligand 1 (PD-L1) is expressed on various cancer cells and triggers immunosuppressive signals through binding to the programmed cell death protein 1 (PD-1) found on effector T cells. This interaction diminishes immune system attack on malignant cells. Blockade of PD-L1/PD-1 association with PD-L1 or PD-1 monoclonal antibodies is a clinically productive mode of immunotherapy against multiple cancers.
GeneTex has augmented its expanding catalog of rabbit recombinant antibodies with two new reagents directed against programmed death-ligand 1 (PD-L1). Both GTX636033 and GTX635975 generate robust signals on western blot that outperform a competitor's top product. In addition, GTX635975 is also validated for immunohistochemistry and was demonstrated to be specific for PD-L1 with no cross-reactivity to PD-L2. These antibodies join GeneTex's well-cited PD-L1 rabbit polyclonal antibody (GTX104763) as the best characterized of a series of GeneTex reagents for the study of this clinically important immune checkpoint inhibitor.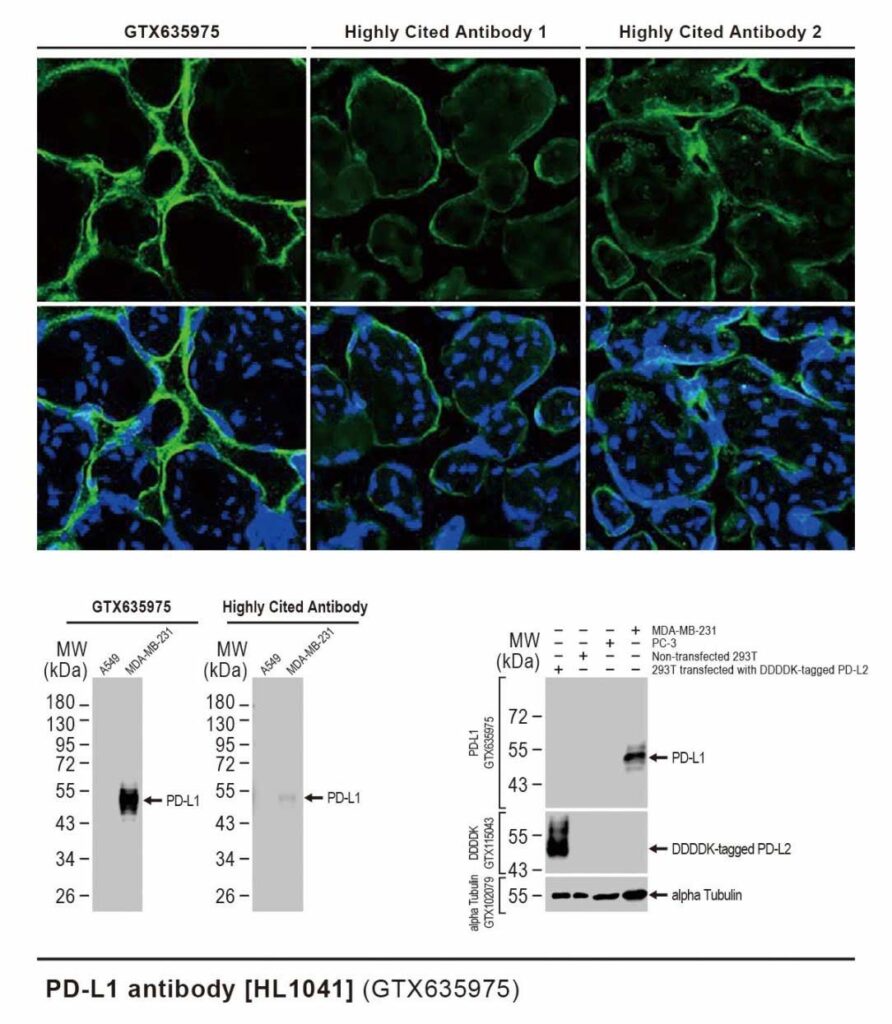 High quality PD-L1 recombinant antibody for IHC assay