23 June 2022
Toolkits for CAR-T cell detection and immunophenotyping
CAR T-cell therapy: A new era in cancer treatment
Recombinant proteins for evaluating CAR expression
Chimeric antigen receptor (CAR) T-cell therapy is a major scientific breakthrough in cancer immunotherapy. The CAR directs T cells to recognize, activate, proliferate, and kill in response to scFv-driven recognition of tumor-associated antigens. Assessing CAR expression using CAR-T target antigens is a critical step for CAR-T development. Sino Biological has developed a broad collection of recombinant CAR-T target antigens to support CAR-T therapy research, covering CD19, BCMA, CD22, CD38, and more. Different forms of target antigens are also available, such as fluorescent, biotinylated, and unconjugated proteins, offering more options in detection methods.
Fluorescent-labeled proteins for CAR detection
Fluorescent-labeled proteins can be used to stain and detect CAR-T cells directly. Compared with the indirect method of using fluorescent-labeled secondary antibodies, assessing CAR expression by the direct approach has some advantages, such as reduced processing time and elimination of background staining.
Sino Biological offers fluorescent-labeled proteins that are specially designed to suit CAR detection and have been rigorously tested to ensure high lot-to-lot consistency.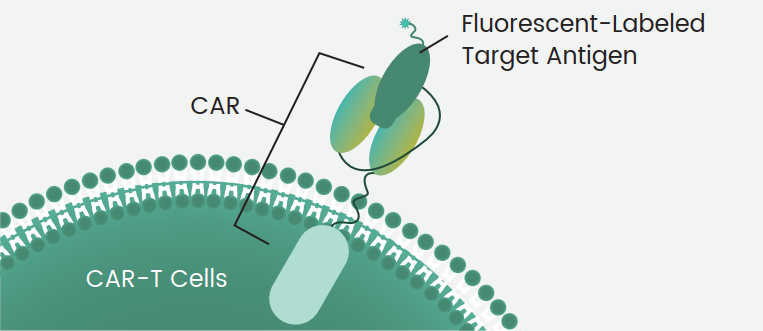 Application examples of evaluating CAR expression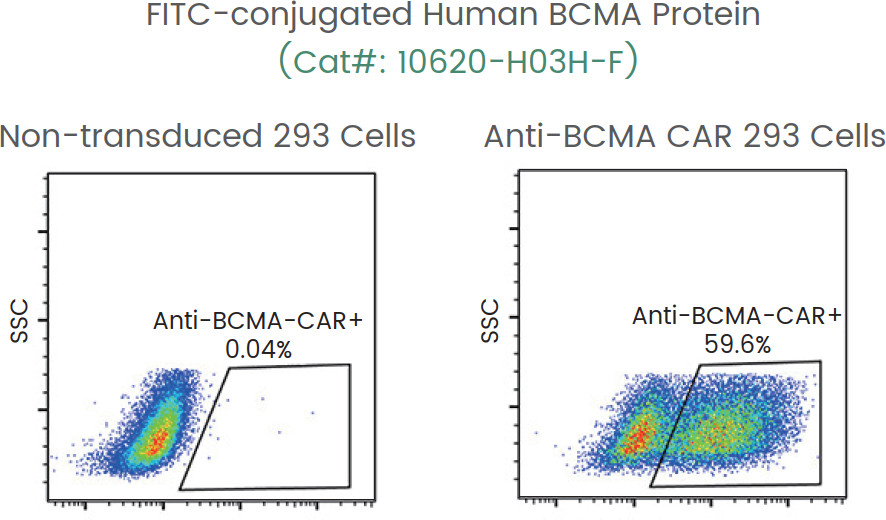 Partial product list of fluorescent-labeled proteins
Protein labeling services
As a leading supplier in recombinant protein development and production, Sino Biological is expanding our panel of CAR-T target proteins for CAR detection. If you cannot find the fluorescent-labeled protein you need, we also provide protein labeling and conjugation services with a wide selection of labels, including FITC, PE, APC, and other fluorescent dyes.
Biotinylated proteins for CAR detection
Sino Biological provides ready-to-use biotinylated CAR-T target proteins for most CAR-T cell therapy targets, which can be detected utilizing fluorochrome-labeled streptavidin. Streptavidin-based detection provides signal amplification with increased detection specificity and sensitivity.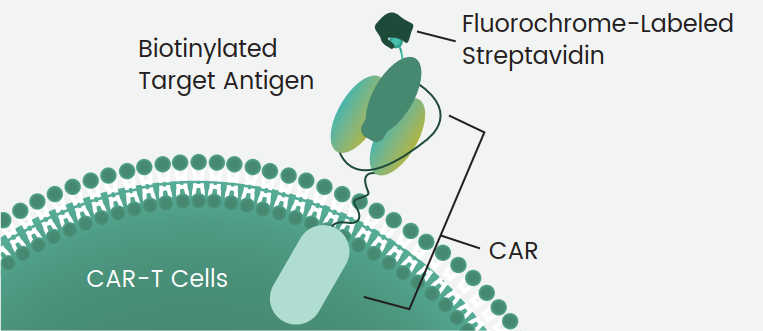 Partial product list of biotinylated proteins
Unconjugated proteins for CAR detection
Sino Biological also provides a broad collection of unconjugated CAR-T target proteins, which can be used to assess CAR expression in pair with fluorophore-labeled secondary antibodies.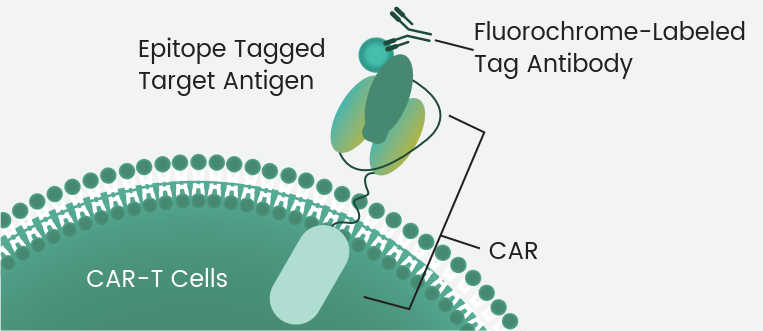 Partial product list of unconjugated proteins
FACS antibodies for CAR-T cell immunophenotyping
The success of CAR-T cell therapy is associated with the phenotype, activation, and functional profiling of infused CAR-T cells. The immunophenotypic characterization of CAR-T cells is crucial for cell quality control and therapeutic efficacy. Flow cytometry (FACS) is a fundamental approach for CAR-T cell immunophenotyping, and the quality of FACS antibodies directly affects the success of experiments. Sino Biological provides a comprehensive portfolio of T cell-related FACS antibodies with high specificity, high affinity, and excellent signal-to-noise (S/N) ratio.
T cell immunophenotyping: CD3/CD4/CD8/CD45 panel
CD3/CD4/CD8/CD45 is used to detect the expression of CD3, CD4, and CD8 in human biological specimens, and to analyze leukemia and lymphatic subgroups. This panel can identify the percentage and absolute counts of mature T lymphocytes (CD3+), helper T lymphocytes (CD3+CD4+) and cytotoxic T lymphocytes (CD3+CD8+) subsets from whole blood samples.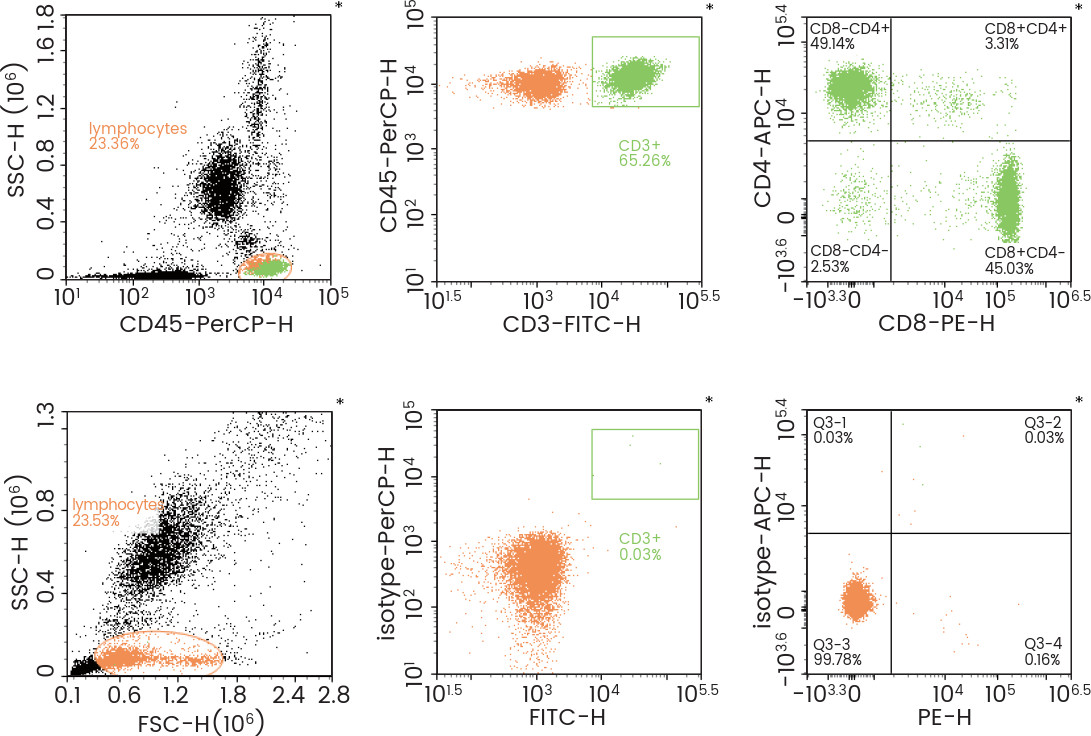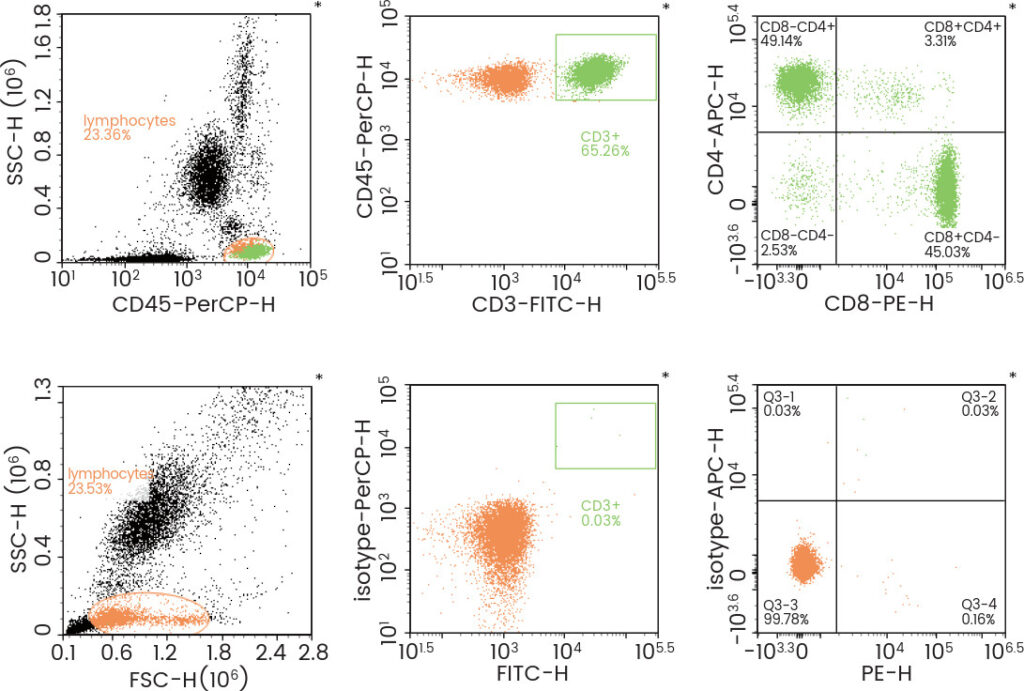 Partial product list of T cell related FACS antibodies
Toolkits for CAR-T cell detection and immunophenotyping