1 December 2021
The SARS-CoV-2 Omicron (B.1.1.529) variant
Our suppliers provide tools to support the study of the new Omicron variant
On 26 November 2021, the WHO has announced that the B.1.1.529 lineage of SARS-CoV-2 is to be designated as a variant of concern (VoC) named Omicron. The first cases of this new variant were reported in South Africa. Since then, this variant has been identified in several locations worldwide. On the same day, 624 passengers who returned to Schiphol Airport from South Africa were tested for the coronavirus SARS-CoV-2 by the GGD Kennemerland. The first results showed that some of the people tested had the Omicron variant.
The Omicron variant seems to be spreading quickly. As with other variants, the small changes (mutations) in this new variant appear to mainly occur in the lines that arise from the coronavirus: the spike protein. What is striking about this variant is that it has an unusually large number of mutations in the spike protein. That includes a number of mutations in locations that can change the properties of the virus.
Recognition of this variant is facilitated by "S gene dropout", meaning that one of the three PCR target genes is not detected.
Several of our suppliers offer tools to support researchers in the study of this Omicron variant. If you have any questions or if you are looking for certain products you can contact our technical support.
Mutations in the spike glycoprotein of Omicron variant
The Omicron variant is by far the most divergent variant characterised by a high number of mutations in the spike protein. Several mutations (e.g.: N501Y, P681H) have been identified in previous variants and are associated with increased transmissibility, immune escape, or other properties.
30 amino acid changes: among which 15 are located in the RBD region
Three deletions
Three insertion in the spike protein NTD

Sino Biological has developed recombinant Omicron Spike (RBD, S1, S2, S-ECD, S-NTD, S Trimer) and Nucleocapsid proteins and evaluated antibodies reacting with Omicron to support the study of Omicron variant. More information can be found here.
New Omicron spike antibodies are available
Contact us if you would like to (pre)order these items.
---
Recombinant Omicron spike proteins
Contact us if you would like to (pre)order these items.
---
SARS-CoV-2 spike antibodies
GeneTex antibodies that detect the Omicron spike protein.
---
Omicron neutralizing antibodies and assay kit now available from BPS Bioscience
BPS Bioscience is excited to announce the availability of two neutralizing, human monoclonal antibodies (CatNo: 101326, 101327) that can recognize the Omicron variant of the SARS-CoV-2 Spike protein and block it from binding to the ACE2 receptor. The Omicron variant (B.1.1.529) contains a large number (37) of mutations in the Spike protein that affect its ability to bind to cells and evade the host's immune response. Many antibodies that can neutralize other SARS-Cov-2 variants are ineffective against the Omicron variant, making these two antibodies valuable reagents for the development of more effective vaccines and antibody treatments for COVID-19 variants.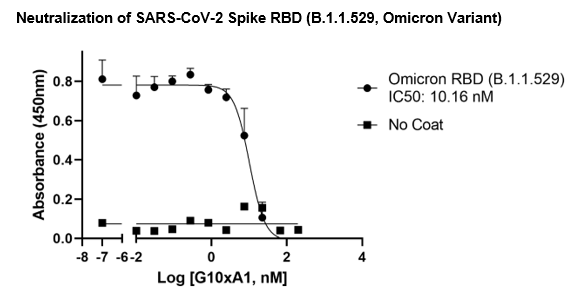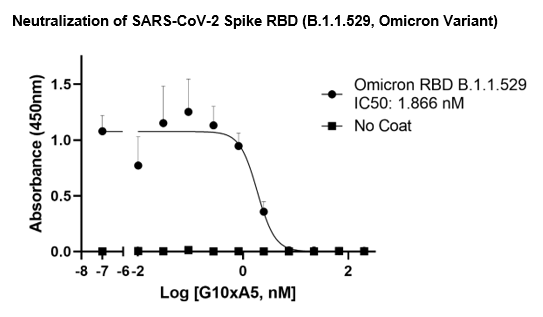 BPS has also developed an assay kit (CatNo: 78339) to screen for additional antibodies that can block binding of the RBD (receptor binding domain) of the Omicron variant Spike protein to ACE2. This colorimetric Spike:ACE2 assay kit provides an easy and efficient method to rapidly identify and characterize neutralizing antibodies or small molecule inhibitors specific for the Omicron variant.
They expect to release additional Omicron variant products in the next few weeks, including Omicron pseudovirus (luciferase and eGFP reporter versions), a chemiluminescent assay kit, recombinant Spike (RBD, S1 and trimer), other mutant Omicron proteins (3CL, nucleocapsid, RNA polymerase), and more.
Please note that quantities of the new Omicron variant (B.1.1.529) products may be limited, so contact us to reserve a product or discuss development of a custom product or service for your research.
The SARS-CoV-2 Omicron (B.1.1.529) variant