AdipoGen Life Sciences
Innovative and high quality products focusing on advanced inflammation, immune response & immunometabolic research
AdipoGen Life Sciences, Inc. is a well-established manufacturer and worldwide distributor of innovative and high quality products focusing on advanced inflammation, immune response & immunometabolic research. Production is located in Switzerland, the US and Germany. A motivated team of highly-skilled individuals develops and manufactures new products for the life science research market. They focus their efforts on inflammation and immune response, including inflammasomes, innate immunity, B- and T-cells immune regulation, neuroinflammation, obesity, immuno-oncology and COVID-19 research. AdipoGen Life Sciences owns chemical laboratories, enabling the company to isolate unique natural products, to develop new and innovative small molecules, and to manufacture rare antibiotics.

AdipoGen Life Sciences cooperates with a number of manufacturers such as: Ancell Corporation, BioViotica, Chemodex, Chimerigen Laboratories, Innaxon, JaICA and South Bay Bio.
Bio-Connect Life Sciences supplies all their products in the Benelux. If you have any questions, please contact the helpdesk.
Major product lines from AdipoGen Life Sciences
Antibodies (Special focus: functional antibodies & recombinant antibodies (Non-animal source))
Recombinant proteins
ELISA kits & matched pair detection sets
Small molecules (biochemicals) / natural products / rare antibiotics
Best-sellers
MultimericCD40L – Highly potent B Cell expansion reagent
MultimericCD40L™ is a high activity construct in which two trimeric CD40 ligands are artificially linked via the collagen domain of ACRP30. This construct very effectively simulates the natural membrane-assisted aggregation of CD40L in vivo. It provides a simple and equally potent alternative to [CD40L+enhancer] combinations. MultimericCD40L™ has shown to suppress alum-induced IL-1β release and caspase-1 activation in a dose-, CD40- and time dependent manner, without affecting BMDM viability. It also effectively suppressed the inflammasome function triggered by NLRP3 activators. The secretion of caspase-1 independent inflammatory mediators has been shown to be unaltered or even enhanced.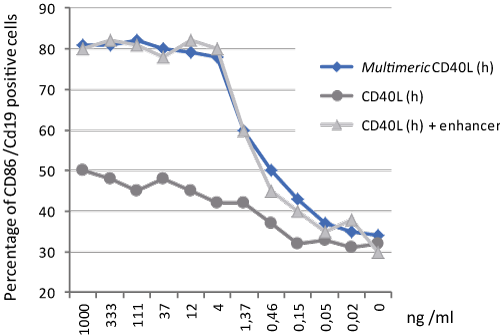 New highly specific SARS-CoV-2 Neutralizing Antibodies Detection Kit
View AdipoGen LIfe Sciences insights for a complete overview of their COVID-19 research reagents.
Publications with products by AdipoGen Life Sciences
AdipoGen Life Sciences
//= get_field('link_naar_research_producten') ?>