BioAuxilium
Specialized in the design, development and manufacturing of ready-to-use TR-FRET assay kits
BioAuxilium Research is a Canadian biotechnology tool company focused on developing and manufacturing cutting-edge cell-based immunoassays based on their enhanced proprietary TR-FRET technology platform, THUNDER™. Founded by experienced assay developers from PerkinElmer with a track record of launching commercially successful assay kits and reagents, BioAuxilium offers top quality, highly validated yet affordable TR-FRET assay kits designed to accelerate all stages of drug discovery. Their products are backed by comprehensive and transparent validation data, along with outstanding technical support and fast delivery. Skeptical? Put them to test!
BioAuxilium also offers a range of custom services at an outstanding value, including antibody labeling to their proprietary donor and acceptor fluorophores, best antibody pair analysis, assay development, ELISA conversion, assay kit development, and compound profiling. Their turnaround times are the shortest in the industry.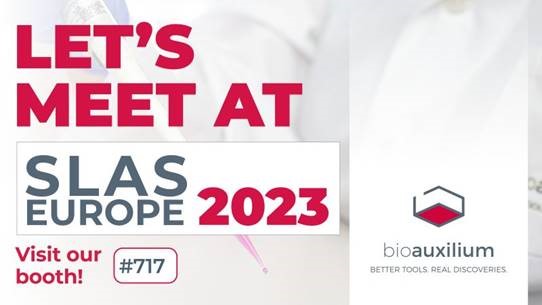 Visit BioAuxilium's booth at SLAS Europe 2023 in Brussels on May 24 and 25.
Why choose TR-FRET assays from BioAuxilium?
Better components
Optimal donor/acceptor fluorophores for exceptional TR-FRET signal
Superior antibodies specifically selected and validated for TR-FRET
Optimized lysis and assay buffers
Rigorous validation
All kits are highly validated on relevant cellular samples
Technical datasheets contain all validation data
Reliability
Kits are developed, validated, and manufactured in-house
New lots are measured against existing lots to ensure lot-to-lot consistency
Affordability
A superior, much cost-effective alternative to current TR-FRET kits
Total flexibility: kits available in 100, 500, 2500, 5000, and 10000 assay points sizes, along with any bulk size
Discover THUNDER™ TR-FRET
Learn more about the THUNDER™ TR-FRET platform in just 3 minutes.
How it works?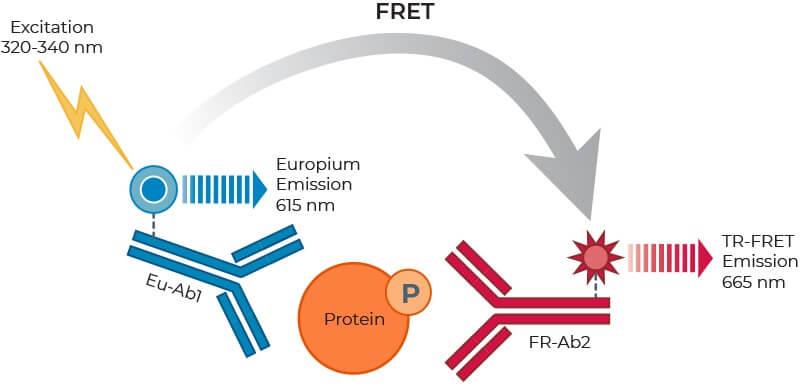 In a typical sandwich assay configuration, one antibody is labeled with the Europium chelate donor and the second antibody is labeled with the far-red acceptor fluorophore. The binding of the two labeled-antibodies to the target protein in the cell lysate or supernatant brings donor and acceptor molecules into close proximity. Upon excitation of the Europium chelate at 320 or 340 nm, energy is transferred to the far-red fluorophore, which in turn emits a long-lived fluorescence signal at 665 nm. The intensity of light emission at 665 nm is proportional to the level of protein in the sample.
Best sellers (endogenous kinases):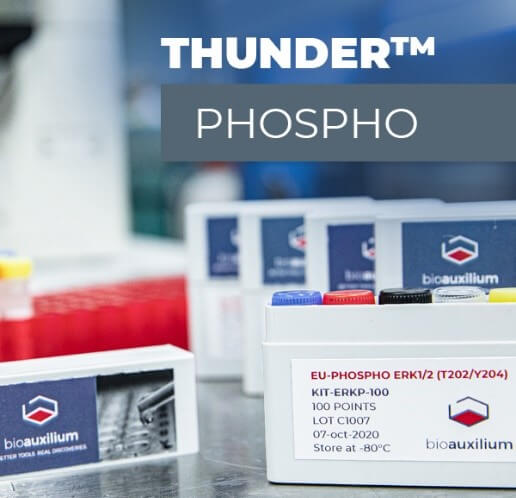 Best sellers (human cytokines):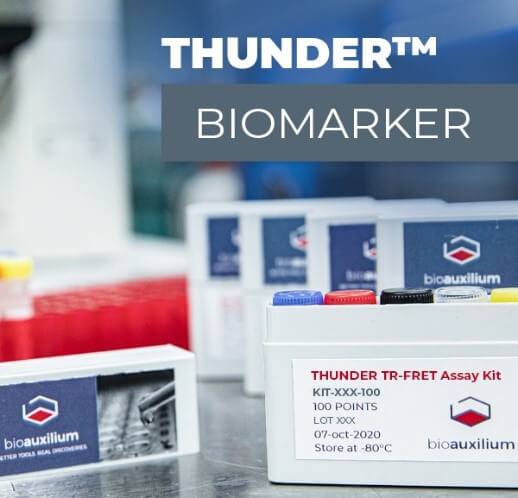 THUNDER™ TR-FRET Biomarker Assay Kits
Bio-Connect Diagnostics supplies all their products in the Benelux. If you have any questions, please contact the helpdesk.
BioAuxilium
//= get_field('link_naar_research_producten') ?>